Web Series Summer Camp is a Smash Hit!
August 31, 2010
"Can we do this every week?" asked workshop leader Timothy Cooper.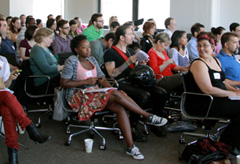 On the 28th, web series creators including Mesh Flinders [Lonelygirl15], Kathleen Grace [The 'Burg] and Martha Byrne [Gotham], Josh Cohen the CIO of Tubefilter and many other experts came to the WGAE to lead a day of workshops for over 125 members and prospective members. Missed it? You can read reports from the panels on Twitter and check out our photos.