Guild Members Learn Final Cut Pro in Our Digital Education Program
February 16, 2011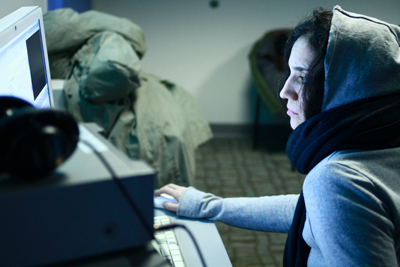 As part of our digital media education program the WGAE developed and presented free, hands-on courses in Final Cut Pro (FPC) in 2010 and earlier this year. The first class was an intensive intro to FCP software at the Borough of Manhattan Community College (BMCC) with funding provided by the Consortium for Worker Education. With help from the Actors Fund we set up classes with the Manhattan Neighborhood Network (MNN), a public access broadcasting organization. This second series included basic camera training in addition to Final Cut Pro.
Approximately 70-75 members have participated in the FCP trainings so far. If you would like to participate in future trainings contact Rebecca Olerich at rolerich@remove-this.wgaeast.org.

Here's what some of the participants have said:
Olga Humphrey
The camera class at Manhattan Neighborhood Network was taught by Christen Cofer, an amazing and personable teacher with an encyclopedic knowledge of cameras that are used by filmmakers today. In just a few short sessions, we learned how to shoot with a Sony PD150 and light simple scenes. MNN and their staff are invaluable resources for WGAE writers looking to expand their expertise in our business. I can't recommend them enough!
John Erikson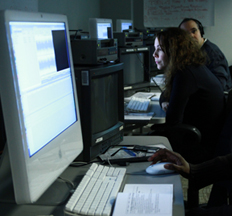 It was real cool. Our teacher, Devorah, extended the class another three weeks to give us more practice. She was a trip. I learned all of the shortcut keys and some basic graphic and audio techniques. I knew the basics going in since I work as an editor and it was still beneficial. I would love to sign up for an advanced class if they ever develop it, especially one that encompasses FCP- Motion.
Matt Nelko
I cannot praise the Final Cut Pro non-linear video editing class highly enough. In today's marketplace, unfortunately, it's no longer enough to be an experienced and accomplished writer and producer. Clients and employers these days want a THREE-for-one: writing, producing, AND editing. And Final Cut Pro has clearly positioned itself as the gold standard of the industry. Increasingly, prospective clients and employers will ask "Do you know Final Cut?", and if your response isn't "Yes", their answer will be "No."
The instruction I received at Manhattan Neighborhood Network was more in-depth, hands-on, and personalized than I ever expected. They purposely keep the class sizes small -- no more than eight students -- so the instructor can be better able to work one-on-one with students when necessary. They ensure all students are on the "same page" so to speak, so we're all learning the same material together -- no one is left behind. This eight week, two-days-per-week, three-hours-per-class course is on a par with taking a continuing education class at a college or university that would otherwise cost thousands of dollars. At the rates they charge -- FREE! -- There isn't a single WGA member who can afford NOT to make the time commitment to broaden their skill set and master this increasingly necessary and marketable skill.
The Apple Stores offer their own Final Cut classes at a modest cost, but with a considerably smaller time commitment. Honestly, there is no comparison between them and MNN. Apple assumes you're a Mac expert right off the bat, and the depth of instruction you get at Apple comes nowhere near what you get at MNN. I liken it to comparing a supermarket cooking demo to a full-fledged French cooking class at the Culinary Institute.
Do not feel intimidated if you aren't computer-savvy (or even Mac-savvy). The instructors assume you no nothing about Macs, and start you literally from Square One. A few of my WGA colleagues in my class had never used Macs before, and by the end of the class had ingested their own material and edited their own packages. Yes, you can do this too! Incidentally, the median *age* of my class was around 50. I had so much fun in this class I honestly hated to see it end."
-- Matt Nelko, News Writer, Comedy Writer, and Freelance Writer/Producer/(and now editor!)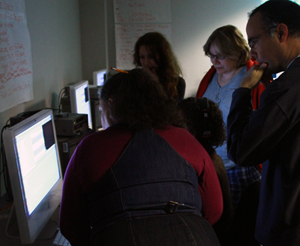 Ilene Rosen
Thanks for the opportunity to say a few words about the Manhattan Neighborhood Network, Final Cut Pro training program for Writers Guild Members.

Whoever came up with the plan to partner with MNN should be thanked profusely.

I'm very pleased to be in one of the first classes; and, let me say they are very valuable. I've priced similar training classes at various production houses and it could cost several thousands of dollars. A four-week, twice a week, small, class with hands-on experience; under the watchful eye of a dedicated and talented teacher; that's priceless.

I've taken the free, Apple introductory FCP classes at least three times. And each time, I walked away more confused, and frustrated than before. Not Apple's fault. They've got their own agenda, and to be honest, some of that is to sell programs and equipment. No problem. I love Apple.

MNN has fashioned a program for the non-techie. The technophobe, who wants to edit digital material without having to rip off the hood and tinker with the innards.

Devorah Hill is the perfect instructor for us writers who want to have more than a passing knowledge of the Digital Apple editing machine. She teaches in non-techie English. Her favorite instruction is "just breathe". Devorah also understands that most of us know how to tell stories; what we need to know is how to string the pictures and sounds together. My learning curve goes something like this. Once I get a chance to edit scenes together, somehow all the details of how to get the pictures into the computer; and manipulating sound and graphics all falls into place. And, of course, having Devorah on site to help deal with groans, whines, and whimpers makes the learning experience manageable.

So, thanks for the chance. With Devorah's help, I'm going to go to work on my own project. Hopefully, in the Spring, I'll have something to show you.
Raven Carter
I am so thankful for WGAE's partnership with MNN to provide writers with Final Cut Pro training. I began the program with basic working knowledge of Final Cut, and am now able to edit complete news and entertainment packages unsupervised and with ease. My training was both professionally and personally rewarding and has been beneficial to me in extraordinary ways