Art and Commerce Meet at Digital Roundtable
February 17, 2011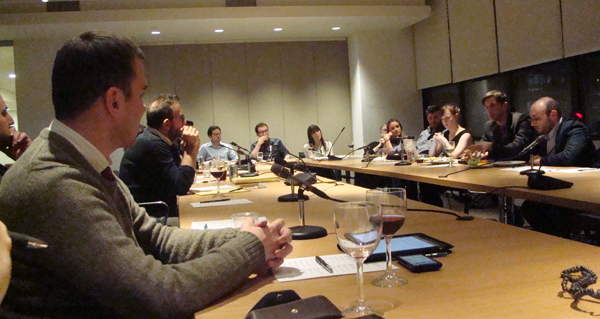 On February 16, two dozen people gathered around the WGAE conference table to talk about digital media. People who commission and distribute digital programming, people who create it, and people who want to apply their storytelling skills in this new world. The conversation was robust and wide-ranging. Several participants offered detailed pointers on how to get hired to create brand-sponsored work. Others described similarities between the digital media business and early television (e.g., there was no money in TV at first, either).
This roundtable was part of the WGAE's digital media education program. We wanted to learn about the needs and experiences of people from public relations and ad agencies, and from channels and networks that commission and distribute original content on-line. We also wanted folks on the business side (many of whom are also creators) to hear from members about the value that skilled storytellers bring to programs. We had members who work in public television, news, comedy/variety, sit-com and episodic television, feature film, and web TV. Of course, many members work in several of these; e.g., playwrights who write for cable or network shows and who create internet programs for the love of it. Members want to figure out how the new business models and career paths will work.
For years entertainment unions have been integrated into the process of media production – from the way deals are done to the way movie sets are organized. The business of making content for the internet and for mobile devices has been described as the "brave new world" and the "wild west", and digital media are a long way from the maturity of television and film. Our goal at the WGAE is to ensure that writers participate actively as the contours and styles and money flows of digital media are developed.