Tell Cesar Millan to be a "pack leader" and stick up for ITV producers!
March 7, 2014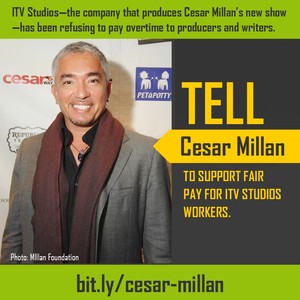 Just this week, ITV Studios, the company that produces Cesar Millan's new show Cesar 911 for National Geographic Wild, reported that in 2013 they posted a 27% increase in profits. ITV Studios says it expects to continue raking in more profits in 2014, even as they look to expand through acquisitions.

The Writers Guild of America, East (WGAE) recently conducted a survey that indicated that ITV Studios, like many other reality and nonfiction production companies, has been generating these profits by extending the work week and not paying overtime to the freelance producers on these shows.

By not paying overtime, ITV has been able to withhold an average of $30,000 per year from each freelance producer they employ. That's money ITV now admits could have been paid to hardworking freelancers, but instead chose to keep for themselves.

Now they are bragging about the windfall of profits they've generated off the superior programming that their freelancers created over the years. Those freelancers not only have no stake in that success now, they likely were denied some of their fair share of it while they were working.

ITV isn't the only violator, but as one of the more successful and profitable production companies in New York, and one where freelancers have chosen to unionize, they should be setting a good example for the rest of the industry to follow.

Cesar Millan can help by standing up for the legal rights of his producers and associate producers to be paid overtime. Let him know that you'd like to see him stand up for what's right.

Click on this link to loan your Twitter or your Facebook feed this Friday for a Thunderclap action. Join with hundreds of other union members, writers, producers and supporters as we take to social media during the premier of ITV's new show, Cesar 911, and ask Cesar Millan to support the men and women who make his show!

And join us Friday night at 9:00 PM on Twitter to tweet support for ITV producers on the #cesar911 hashtag.