Writers Go to DC to Defend Public Media
March 16, 2011
On March 15 PBS writers went to Capitol Hill to help deliver over 1 million petition signatures-- including signatures from hundreds of Guild members, calling on congress to save PBS. A coalition of groups including AFTRA, Credo Action, CWA, Free Press, MoveOn and NABET held a press conference and presented the signatures to congressional offices.
Writers Guild members Adam Peltzman (The Electric Company), Larry Klein (NOVA), Sarah Hold (NOVA, American Exerpience and William Levin (Sesame Street), participated in this action on behalf of the Guild.
The Hill newspaper quoted the press conference:
"It's ironic that while some people are maneuvering to defund public broadcasting that so many of those same people started their day listening to NPR," Rep. Earl Blumenauer (D-Ore.) said. Bob McGrath, a Sesame Street actor, said public broadcasting is a "necessity to our society." It's "not a frill," he said.
See more photos from our day at the Capitol here.
To learn more about the March 15 delegation visit SAVEtheNews.org
Read the letter PBS writers sent to Congress.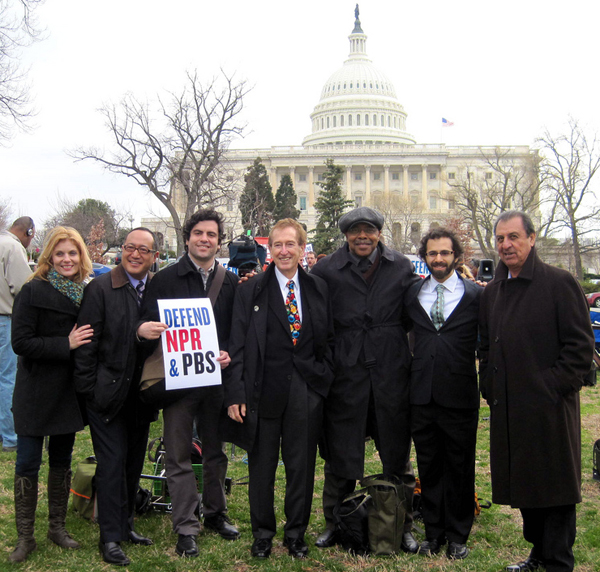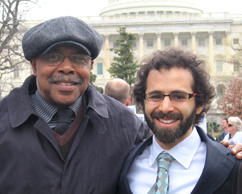 Sesame Street actor Roscoe Orman ("Gordon") with writer William Levin (Sesame Street) in front of the Capital building.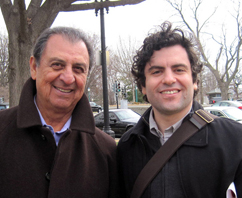 Sesame Street actor Emilio Delgado ("Luis") and writer Adam Peltzman (The Electric Company)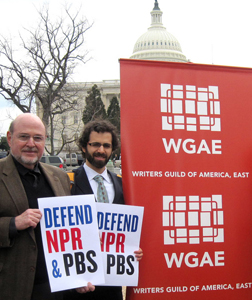 Larry Klein (NOVA) and William Levin