Robert Seidman's acclaimed novel now in paperback
February 6, 2014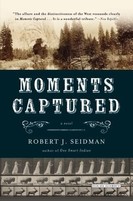 Moments Captured, the latest novel from WGAE member Robert Seidman, is now available in paperback.
Moments Captured is the captivating story of two indelible individuals and a shattering murder in latenineteenth-century San Francisco. An epic saga of young America flexing its muscle, it is roughly based on the life of the great photographer Edward Muybridge. Crossing the country with his camera and outsized ambition, Muybridge meets the emancipated young dancer Holly Hughes, and inexorably she becomes the true focus of his life- though a corrupt robber baron interested in Muybridge's talent for technology comes between them.
Seidman wrote the screenplay for Lush Life: Billy Strayhorn, a documentary that won a 2007 Writers Guild Award.