Writers Guild Initiative Serves Wounded Warriors in Germany
June 6, 2012
by Emmelle Israel, AFL-CIO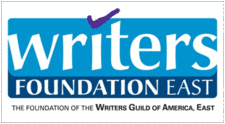 Sharon Rubino-West, a former Marine herself and the mother of a Gulf War II veteran diagnosed with post-traumatic stress disorder (PTSD) and traumatic brain injuries (TBI), remembers the Helen Deutsch Writing Workshops as the first time anyone with a military background reassured her that it was alright to share her family's story of living with a veteran with disabilities.
Prior to that, when she needed to talk about her family's experience, she heard a familiar refrain:
"You shouldn't be telling your son's business. You shouldn't be talking about this."
Only when she was sitting in her writing group, worrying about how much to reveal in her writing, did a fellow military vet tell her not to be concerned about what other people thought.
Click here to continue reading at AFL-CIO...