Softball: Guild 10, Thomson Reuters 2
July 12, 2012
by Timothy Cooper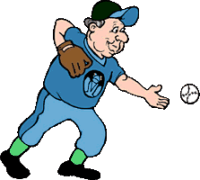 With our level of communication, batting accuracy, and defensive tightness, these games are getting more predictable than heart-thumping. Here's how it went down:
A sharp infield (Stu, Kevin, Jo, Shannon, Dave, Emmitt, Sharon) prevented virtually anything exciting from happening.
Our outfield of Marni, Sam, Alan, Erik, Scott, and Julie didn't liven things up much with their consistency.
Doug and Zayd again proved that we have some of the best pitchers on all four remaining teams of our division.
We batted all the way around in the fifth, scoring 6 and solidifying Thomson Reuters' unhappy Monday night.