Strike out (in softball that is). Join our Team!
May 10, 2011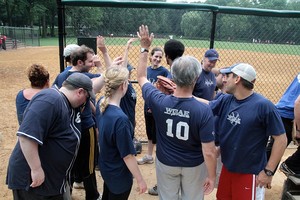 Did you know that once a week, a bunch of fun-loving writers actually put down their pens, leave their darkened caves, pick up a bat, and run around some bases? The WGAE Softball Team's season is underway but we are still looking for more players—especially more women because teams in our league must be gender balanced.

Games are generally at 5:30 or 6:45 p.m. on Monday evenings, in Central Park. Email wgaeasoftball@remove-this.gmail.com to learn more and join!