(FEB 26) TV Writers Talk w/ Terence Winter, Tom Fontana & Eric Overmyer
February 10, 2014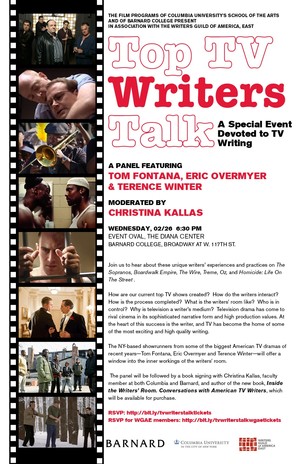 The Film Programs of Columbia University's School of the Arts and of Bernard College Presents
In Association with the Writers Guild of America, East
TOP TV WRITERS TALK
A Panel Featuring Tom Fontana, Eric Overmyer & Terence Winter
Moderated by Christina Kallas
Wednesday, February 26th at 6:30pm
Event Oval, The Diana Center
Barnard College, Broadway at W. 117th Street
Join us to hear about these unique writers' experiences and practices on The Sopranos, Boardwalk Empire, The Wire, Treme, Oz, and Homicide: Life On The Street .
How are our current top TV shows created? How do the writers interact? How is the process completed? What is the writers' room like? Who is in control? Why is television a writer's medium? Television drama has come to rival cinema in its sophisticated narrative form and high production values. At the heart of this success is the writer, and TV has become the home of some of the most exciting and high quality writing.The NY-based showrunners from some of the biggest American TV dramas of recent years-Tom Fontana, Eric Overmyer and Terence Winter-will offer a window into the inner workings of the writers' room.
The panel will be followed by a book signing with Christina Kallas, faculty member at both Columbia and Barnard, and author of the new book, Inside the Writers' Room. Conversations with American TV Writers, which will be available for purchase.
Event Location
Event Oval, The Diana Center, Barnard College
3009 Broadway
New York, NY 10027