(April 5) WGAE Member's Short Film to Screen at Friars Club Comedy Film Festival
March 25, 2014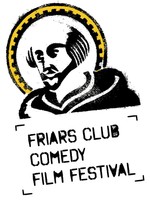 WGAE member Jeffrey Hirschberg's short film -- WHY CAN'T THEY ALL BE LIKE JOHNNY DEPP? -- is an Official Selection at the Friars Club Comedy Film Festival.
Last summer, Hirschberg was awarded a full scholarship with Christine Vachon's Killer Films and Southampton Arts to write and direct the film as part of the inaugural 20/20/20 program.
The film was adapted from Hirschberg's feature screenplay of the same name, which was a Winner of the 2010 WGA Screenplay Reading Series.
Watch a teaser for the film here.
LOGLINE: While Cindy dreams of Johnny Depp as the perfect man, she discovers her true soul mate is closer than she thinks.
WHEN: Saturday, April 5, 2014 at 12:00pm (eight short films will be presented)
WHERE: The Dolby Screening Room: 1350 Avenue of the Americas, New York, NY (West 55th Street)
TICKETS: Available here.