The 2013 Writers Guild Awards Playlist
From the Executive Producers...
Those of you who were with us for the WGAE Awards at B.B. King Blues Club on February 17 took part in a very memorable evening.
Our host, the always hilarious Richard Kind, along with presenter Bobby Cannavale, kicked off a show which then became a night of writers—not just the nominees and winners, but also the presenters. Awards were presented by Lucy Alibar, Jonathan Ames, W. Kamau Bell, Mike Birbiglia, Gina Gershon, Nancy Giles, Lisa Lampanelli, Sonia Manzano, Mike Reiss and Liz Tuccillo.
Winners taking home the gold (well, technically the bronze) included writers for film, radio and television. In giving her acceptance speech for Best New Series, the always daring Lena Dunham showed her dedication to the WGA by sharing, "This is an incredibly meaningful award to get. I love being a member of this Guild. I'm so excited for the future chance to maybe arbitrate and see how all this works." Kudos to Lena for breaking down yet another barrier and giving what may be the Guild's first positive shout-out to arbitration.
Some of the evening's sweetest moments came during the special tributes. Scott Frank presented fellow screenwriter David Koepp with the Hunter Award for Career Achievement. Last year's Jablow Award winner Susan Kim gave WGAE Secretary–Treasurer Bob Schneider this year's prize for Service to the Guild. President Michael Winship and Executive Director Lowell Peterson gave out, respectively, the Guild's Merriman Award and the Writers Guild Initiative's Michael Collyer Fellowship to promising young students. And in a very special segment, author Meg Wolitzer shared a moving tribute about her friend and collaborator, the late Nora Ephron.
If you missed the show, visit the Awards web page where you can view photos, clips and the evening's program. We hope you'll get involved with the awards next year—enter your work, volunteer to judge or buy a ticket to the show.
Bonnie Datt, Chair of the Awards Committee and Executive Producer
Craig Shemin, Executive Producer
Winners
Click here for a list of winners from the 2013 Writers Guild Awards.
This Year's Host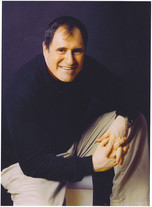 The 2013 Writers Guild Awards will be hosted by Richard Kind.
Scheduled Presenters
Jonathan Ames
Lucy Alibar
W. Kamau Bell
Mike Birbiglia
Bobby Cannavale
Scott Frank
Gina Gershon
Nancy Giles
Lisa Lampanelli
Sonia Manzano
Mike Reiss
Liz Tuccillo
Meg Wolitzer
Special Honorees
David Koepp
Bob Schneider


A Special Tribute to Nora Ephron
2013 WGA Awards Timeline
Click here to see the timeline of events leading up to the 65th Writers Guild Awards.
Save the Date
The 2013 Writers Guild Awards will be held on Sunday, February 17, at B.B. King Blues Club in New York City.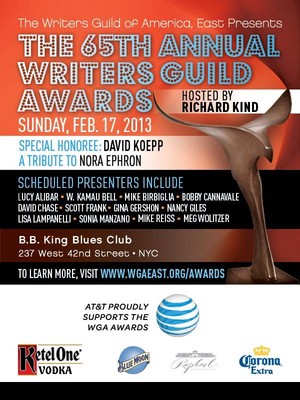 Visit www.wgaeast.org/awardstix to purchase tickets.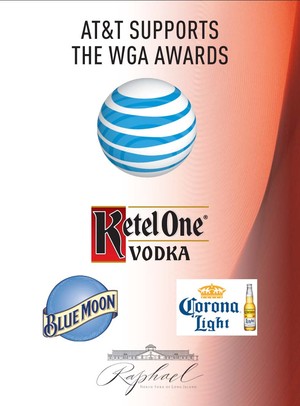 PLEASE DRINK RESPONSIBLY.
KETEL ONE Vodka. Distilled from Wheat. 40% Alc/Vol. ©2013 Imported by Ketel One USA, Aliso Viejo, CA.