Web-ish: Thom Woodley Reflects on 10 Years of Web Series
Thom Woodley became a member of the WGAE as the co-writer and co-creator of THE BURG, which is widely credited as the first web series.  Since that time, he's created several web series and helped create the WGAE Digital Caucus.  This summer marks 10 years of short form digital content. 
 In advance of his participation in the May 19 Internet Week New York talk, Web-ish: How the Internet Opened TV (RSVP here) here at the WGAE, he reflects on how far digital has come and what the current ecosystem means to the independent 'TV' writer.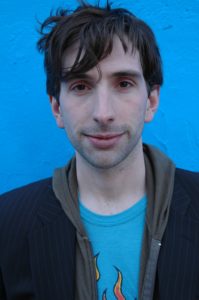 THE BURG was launched exactly 10 years ago. It was the first popular long-form scripted series created specifically for the web (our episodes ran the gamut from thirty seconds to 45 minutes), and the first to get substantial press and attention from the industry (including being named as one of the NY Times Best Ideas of the Year). It was a scathing satire of hipsters in Williamsburg a full half decade before BROAD CITY, PORTLANDIA or GIRLS.
My partners and I were fortunate enough to keep creating successful online work. Our second show, THE ALL-FOR-NOTS, was executive produced by Michael Eisner, and boasted at the time (2008) the biggest budget yet for a web series, and was one of the first to make the leap to television (HDNet). Both of these shows attracted major sponsorship deals. Our third show, ALL'S FAIRE, was among the first to be nominated for a Streamy Award and the Writers Guild Award for New Media. Our fourth, GREG & DONNY, was acquired by IFC.
These shows were all shot before the days of readily available HD, or even iPhones. And while I love (almost) every moment of their 12+ hours of runtime, the technological and storytelling differences between now and then are staggering.
But even in those heady early days of web series, there was a growing split in the actual business of how to make shows. 'Viral video' was constantly lauded for its relative low cost of production and limitless potential for traffic. They thereby proved much more attractive to advertisers interested in scalable ROI than scripted narrative work, which tended to be longer, more time-consuming, and involve more people (thus proving costlier). Meanwhile, I (and many others) pushed for 'chronic video'—entertainment that a viewer treasured, looked forward to, and watched more than once. Advertisers would be better off, we argued, with a model that measured quality of views rather than quantity.  That is, they would attach themselves to work that gathered a consistent devoted audience for whom content would be highly targeted, rather than anonymous millions, most of whom would have no interest in the product.
Ten years later, it's looking more and more like the split has produced three different definitions of 'web series'. The YouTube model has morphed almost entirely to short-form talking-head work that can be written and produced quickly, easily, and for under $200 (the average return that 100K YouTube views will get you). Viral video still exists, but primarily as a way to collect potential subscribers to a larger channel, where they can then be delivered content in a more personal way. Longform series have largely proven to thrive mainly on on-demand services like Netflix, Hulu, and Amazon – with heavy Hollywood intervention.
This leaves the third arena; scripted episodic narrative work that doesn't run on one of those big channels or start life as a pitch from a studio. Independent Television.
Back when I first made my shows, I was one of a half dozen working creators. Now there are hundreds of series launched every day. The market for them, of course, is infinitesimal, but there is massive untapped potential here. There are enough inexpensively produced shows of good enough quality, and creators of unrecognized skill, to populate content-hungry sites and channels for years to come. The person who figures out the best way to connect these two dots will get to write the book on the next ten years of video on the web.
---