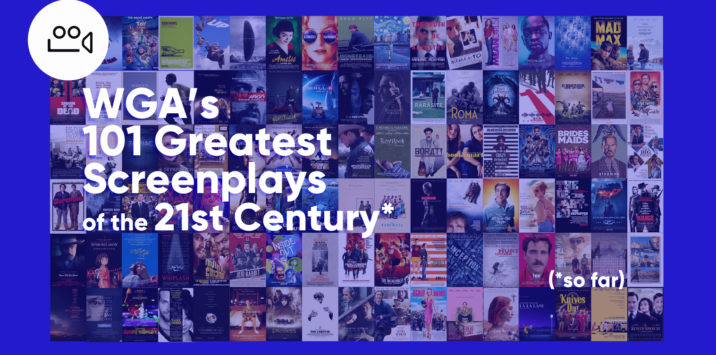 Written by Paul Brownfield
Illustration by Micah Light
December 6, 2021
Skip this page and go straight to the LIST! >>
Fifteen years ago, when the Writers Guild of America West (WGAW) and the Writers Guild of America East (WGAE) compiled the 101 Greatest Screenplays of all time, the list was nothing short of a 20th century canon. The romantic wartime spy thriller Casablanca (written by the brothers Julius J. & Philip G. Epstein, and Howard Koch) was voted number 1; 99 screenplays later, at 101, was another romantic wartime spy thriller, Notorious (written by Ben Hecht).
In between were foundational examples of film noir (Double Indemnity, written by Billy Wilder and Raymond Chandler), romantic comedy (Annie Hall, written by Woody Allen and Marshall Brickman), and gritty social drama (On the Waterfront, written by Budd Schulberg). But "canon" is a double-edged word: Of those 101 scripts, there were no writers of color, and only seven had a female screenwriter credited.
The new 101 Greatest Screenplays of the 21st Century (*so far) could not but tell a different, and fluid, story. On the prior list, classic films about women, like Sunset Boulevard or All About Eve, were still narrated by men—one lying dead in a swimming pool. There are some 30 female screenwriters this time around, and five writers of color in the top 10. More to the point, there is not the sense that the writer had to contrive a way to make his or her character more…relatable, regardless of race, gender, or sexual orientation.
As the number one vote-getter, Get Out is this list's version of Casablanca: Imagine Jordan Peele pitching his concept to Jack Warner, and it immediately becomes apparent why comparing screenplays across Hollywood epochs is a non-starter. "We weren't making art, we were making a living," screenwriter Julius Epstein famously quipped of the studio system under which Casablanca was written.
Get Out wasn't conceived and written under any such restrictions, with a catch: The very concept of "writing for the screen" is in existential crisis. The studio system has given way to the streaming system, where everything, no matter the source, competes for eyeballs. This great (right?) democratization of content has also changed a lot of hard-and-fast rules. There are seven scripts for animated films on the new list. Depth of character, once strictly the province of the drama, or the issue film, is not out of place in a superhero movie or one starring a badly behaving bridesmaid. And formerly individuated genres like sci-fi, horror, comedy, and drama intersect freely, sometimes all in the same screenplay—see Parasite or The Lobster.
Some things haven't changed, list to list. Among the screenwriter's roles is to reveal what is sick or horribly amiss in the culture. It was as true of Network or The Sweet Smell of Success as it is of The Big Short or Promising Young Woman. Universal themes are universal for a reason. For instance, the destructive nature of outsize power, concentrated in the hands of one apparently friend-less man. Charles Foster Kane, meet Mark Zuckerberg.
There are other cool double bills across lists. All the President's Men and Spotlight; Harold and Maude and Lars and the Real Girl; Sullivan's Travels and Nomadland. Speaking of which, it is worth noting that most of the protagonists from the 20th century list had enviable job security, even if this meant Mafia boss, intergalactic warrior, or shark hunter. On the new list, occupation no longer defines character; but then again the middle class has vanished, the chasm between rich and poor evinced in movies from Roma to Little Miss Sunshine. And in screenplays like Wall-E, Arrival, or Children of Men, there is the heavy presence of a question: What exactly are we doing to ourselves, if not the planet?
Perhaps that's why the relatively earnest romantic comedy, at least as practiced by Nora Ephron's When Harry Met Sally, is absent from the new list, unless you count the man-on-operating-system love of Her, or the teenage besties of Superbad and Booksmart.
The screenwriters of the 20th century list were men who had either served in war, fled persecution in their home country, or come of age in war's shadow. Cinema's first job, until the studio system died and the rebel filmmakers of the 1960s and '70s came along, was escape.
The characters of the 21st century list are plagued by a different sort of battle. It involves the hard-fought realization of selfhood against mitigating forces of circumstance, biology, technology, identity, and neurosis. See Adaptation, Boyhood, Moonlight, and Inside Out. Destiny is now an option question, happily ever after just a construct. From Get Out at number 1, to Silver Linings Playbook at 101, the screenplays on this list invariably approach this question of self with authentic curiosity, boldness of vision, and a sense of artistic—if not personal—risk.
Read the 101 Greatest Screenplays of the 21st century (*so far).
Paul Brownfield is a former staff writer at the Los Angeles Times, where he was the paper's television critic between 2004 and 2008. His articles have appeared in The New York Times, The New Yorker, and Los Angeles magazine.
Back to top