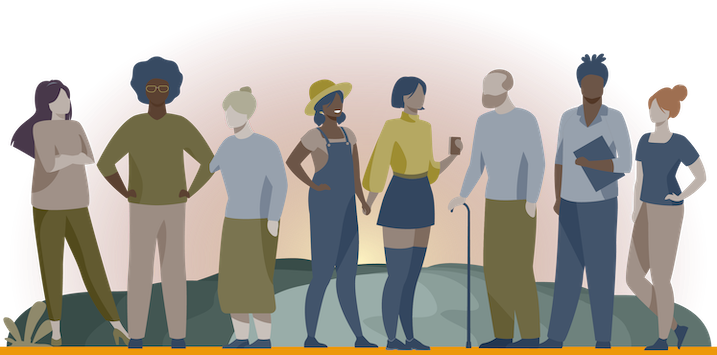 WGAE Inclusion and Equity Initiatives
Committee for Inclusion and Equity
The mission of the Committee for Inclusion and Equity (CIE) is to ensure fair representation of traditionally underrepresented writers. Our goal is to seek out, develop and sustain increased opportunities for these writers, both within our union and in the industry at large. 
Of the credited writers of top theatrical films in 2020, 25.9% were people of color and 26% were women.

Those amounts will need to increase by about 14 percentage points for writers of color, and by 24 percentage points for women writers, in order to reach proportionate representation.
(Source: Hollywood Diversity Report 2021, Part 1: Film "External link (opens in a new window)")
Current Committee Membership
Chairs: Courtney Simon & Lisa Takeuchi Cullen
A.M. Homes
Angie Day
Bethany Hall
Brandon K Hines
Bryan Parker
Yasmine Cadet
Cristine Chambers
Derek Nguyen
Erica Saleh
Ian Olympio
Jane Barr
Judy Tate
Justin Carter
Kathy McGee
Kelly Stout
Laura Eason
Linda Sue Brown
Louis Venosta
Maria Agui-Carter
Monica Lee Bellais
Rashidi Hendrix
Sasha Stewart
Serena da Conceição
---
Cultivating Community
WGAE Salons 
WGAE Salons are member-led groups that work to build community, amplify the voices of underrepresented writers, provide practical career-building skills, celebrate the successes of our peers, and more.
Our current Salons include:
Each Salon is open to all WGAE members who identify as part of that respective Salon's community. Members are welcome to get involved with as many Salons as they would like. If you are interested in joining the mailing list for a Salon, please use the links above to add your name to that Salon's list.
Caucuses
WGAE caucuses are network communities which promote and encourage the professional and artistic interests of writers working in existing and emerging fields of entertainment and news media, including indie film, documentary, new media, and animation. Caucuses are also another way the Guild works to broaden the pipeline of professional diverse writers. 
Caucuses are composed of both members and non-members of the Guild. Caucuses serve as the device through which the Guild observes shifts and trends in the industry and their impact on professional writers. Caucuses also give non-members and members alike the opportunity to establish and foster important professional relationships, educate themselves on industry-specific issues, and develop vital creative and entrepreneurial skills alongside a community of their peers.
New caucus members are welcomed quarterly by invitation. To be considered, please complete the WGAE Caucus Application (PDF).
---
Building an Equitable Pipeline
Made In New York Writers Room
In the Fall of 2016, the WGAE partnered with the Mayor's Office of Media and Entertainment (MOME) and the NYC Department of Small Business Services (SBS) to launch the Made in New York Writers Room. The fellowship provides an intensive six-months of support to writers of diverse backgrounds in New York City. Fellows participate in trainings and programs, and receive dedicated mentorship from established NYC-based showrunners.
The MINY Writers Room fellowship provides an opportunity for emerging writers to learn what it takes to succeed in the industry here in NYC, and to receive feedback on their works in progress from esteemed industry professionals. Participants also receive additional professional development opportunities and industry feedback, with the goal of developing an original drama or comedy pilot ready for production at the end of the fellowship period.
During the pilot year of the program, the fellows were mentored by leading television showrunners including Anya Epstein (THE AFFAIR), Michael Rauch (INSTINCT), Beau Willimon (HOUSE OF CARDS), Richard LaGravenese (THE DIVIDE) and Julie Rottenberg & Elisa Zuritsky (ODD MOM OUT) among others.
Learn more about the MINY Writers Room Fellowship
FilmNation Screenwriters Workshop
In 2020, The Writers Guild of America, East (WGAE) and FilmNation Entertainment invited seven writers to participate in the inaugural New York Screenwriters Workshop, a six-month intensive program that focuses on professional development for diverse, emerging screenwriters in the greater New York City area.
The Workshop provided the seven writers with both a screenwriting mentor and an industry executive mentor while the writer completed a feature length screenplay during the run of the program. Throughout the program, writers were also primed on the business of entertainment by various screenwriters and executives representing various New York City-based film companies. The program was initiated by FilmNation Diversity Committee members Alison Cohen, Liz Siegal and Lucy Licht.
The 2020 mentors included Arianna Bocco (IFC), Kelly Carmichael (Freckle Films), Alex Dinelaris (BIRDMAN OR (THE UNEXPECTED VIRTUE OF IGNORANCE), JUDY), Scott Frank (LOGAN, MINORITY REPORT), Jim Hart (AUGUST RUSH, HOOK), Ryan Heller (Topic Studios), Caroline Kaplan (Cinereach), Malcolm Lee (THE BEST MAN, WELCOME HOME ROSCOE JENKINS), Doug McGrath (NICHOLAS NICKELBY, EMMA), Rebecca Miller (MAGGIE'S PLAN, PROOF), and Jim Taylor (DOWNSIZING, SIDEWAYS).
Learn more about the FilmNation Screenwriters Workshop
---
Legislation: TV Diversity Bill
Since 2010, the WGAE has been working to pass a landmark TV diversity bill in New York State. The bill, which is supported by the WGAE and the Directors Guild of America (DGA), would provide a tax incentive for hiring women and people of color to write and direct television in New York. The legislation also borrows from existing state law that addresses historic inequities in other parts of the state economy. And—notably—it is the first of its kind in the nation. The Committee for Inclusion and Equity has been active in lobbying and advocating for passage of the tax credit.
The bill passed both the New York State Assembly and the Senate in June 2017. It was sent to Governor Andrew Cuomo's desk that December, but was vetoed by the Governor at the end of the year. However, the Guild and the CIE continued to press for legislative actions that will create meaningful change in our industry. 
The bill passed again in 2019, and Governor Cuomo signed the bill at year-end. However, he insisted that – before the tax credit would become effective – the state would have to conduct a "disparity study" to demonstrate that the representation of women and people of color writing and directing television in the state was lower than the representation of people available to do the work. Unfortunately, the pandemic's effect on the 2020 state budget meant there was no funding for the study. In 2021, Guild members and our labor allies mobilized alongside our legislative champions Senator Robert Jackson and Assemblymember Latrice Walker. Thanks to these combined efforts, we secured the funding for the study in the state's 2021 budget.
---
Shop-Specific Initiatives
Online Media
Employees at online media sites who have unionized with the Guild have done so for a number of reasons. But one issue that workers across each site seek to address is diversity. Crucially, union contracts address a broad range of issues, such as pay equity and parental leave policies, as well as workplace "culture" issues (like equity & inclusion). Many unionized sites have active initiatives around diversity and have also used their contracts to establish workplace diversity committees.
Learn more about organizing around diversity in online media.
Broadcast/Cable/Streaming News
Broadcast/cable/streaming news news staff have been a part of the Writers Guild since the union's inception in 1954. While the makeup of broadcast newsrooms is undoubtedly more diverse than it was almost 70 years ago, there is always room to grow. And union contracts have a crucial role in that growth.
The Guild's broadcast/cable/streaming news contracts all include explicit diversity/nondiscrimination provisions of some kind, and many also establish workplace diversity committees. In addition to those terms, broadcast contracts address many other financial and workplace-related issues—such as parental leave, pay minimums, just cause & skills training—that play a part in building (and protecting) an inclusive and equitable workplace.
Read the Guild's broadcast/cable/streaming news contracts.
Nonfiction
The Nonfiction organizing campaign is dedicated to empowering Women of Color—and BIPOC people across all gender identities—to improve their work lives. The Women of Color Caucus leads the charge for nonfiction organizing, fighting for pay equity, and improving representation.
The Caucus is committed to ensuring creators of color receive equal and appropriate compensation for their work. This includes fair wages and salaries, standard of living benefits such as PTO, and health/life insurance as a human right.
In pursuit of these goals, the Caucus also organizes workshops and trainings, provides resources and materials to support creatives and organizations in the industry, and supports industry leadership in organizing campaigns.
Learn more about the Nonfiction Women of Color Caucus.
---
Resources
In addition to the Guild's programs and the provisions in Guild-negotiated contracts, we also encourage the use of these resources.
Think Tank for Inclusion and Equity (TTIE)
The Think Tank for Inclusion & Equity (TTIE – pronounced "tie") is a consortium of working TV writers spanning staff writer to showrunner. We know firsthand the challenges faced by underrepresented TV writers (Women, BIPOC, LGBTQIA+, Disabled People) because TTIE is comprised of members from these communities.
Further, as the only intersectional social change organization that advocates within the entertainment industry for a diverse cross-section of underrepresented communities, TTIE is uniquely situated to empower underrepresented writers and transform the industry into one in which all writers and all stories can thrive. 
WGA West Industry Inclusion Reports
Commissioned by the Writers Guild of America West, the WGAW 2020 Inclusion Report and the Hollywood Writers Reports & TV Staffing Briefs provide an update on the progress of women, minority, and older writers on the employment and earnings fronts.
Industry Writing Programs, Conferences, and Festivals
As is true in many industries, the barrier to entry for writers who belong to underrepresented communities often seems insurmountable. A list of industry writing programs and festivals, managed by the Writers Guild of America West, provides a directory of industry programs, conferences, and festivals focused on inclusion and equity.
The list is meant to be used for informational purposes only; a program's inclusion does not, in and of itself, indicate endorsement by the Writers Guild of America, East or West.
Sexual Harassment Resource Guide
The Committee for Inclusion and Equity's mission is to address and remedy the profound imbalance of power in the entertainment & media industries. Addressing and combating sexual harassment is a vital part of achieving that mission. This guide is part of our review of the steps we can take as a union to address the issue of sexual harassment and protect our members. Read the Sexual Harassment Resource Guide.
Quick Links
The WGAE is committed to addressing the inequities in our industries head-on. The Committee for Inclusion and Equity is a fundamental part of this work.
Back to top