Wednesday November 4, 2020
600 Film, TV, & News Writers Urge the Committee to Protect Journalists to Agree to Union Contract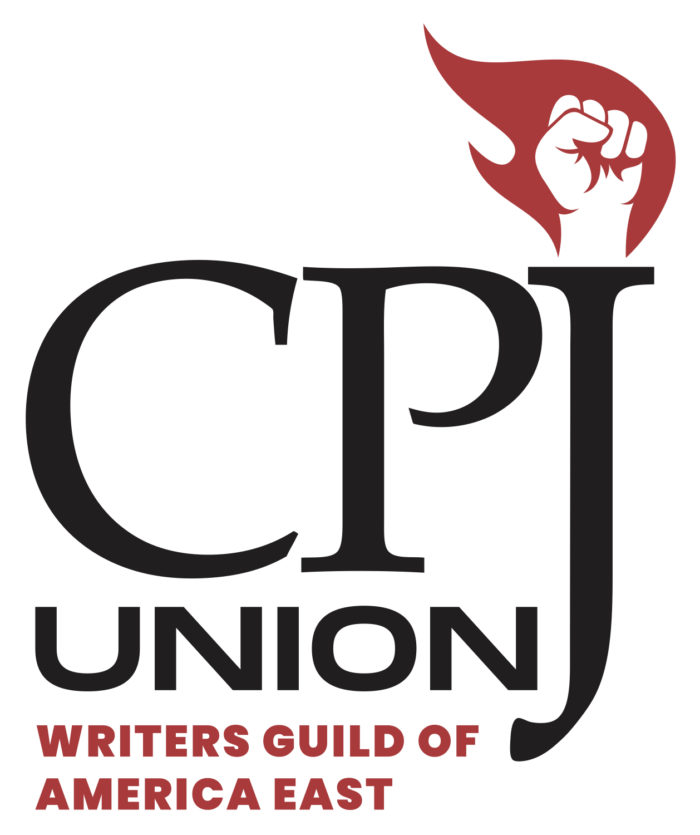 New York, NY (November 4, 2020) – Over 600 members of the Writers Guild of America, East (WGAE) working in scripted film and television—including including Zhubin Parang (head writer, THE DAILY SHOW WITH TREVOR NOAH), Kristen Bartlett (co-head writer, FULL FRONTAL WITH SAMANTHA BEE), Prashanth Venkataramanujam (head writer, PATRIOT ACT WITH HASAN MINHAJ), Amy Schumer (INSIDE AMY SCHUMER), David Simon (THE PLOT AGAINST AMERICA), Tony Gilroy (BEIRUT), and Neil Gaiman (GOOD OMENS)—signed a petition urging the Committee to Protect Journalists (CPJ) to agree to a union contact.
The petition was delivered to the organization on Wednesday, November 4, 2020, prior to a scheduled bargaining session on November 5.
It has been over a year since the Guild held its first collective bargaining session with CPJ. The union was recognized by management in July 2019.
The petition reads:
"As members of the Writers Guild of America, East, we are proud to stand with our comrades on the staff of the Committee to Protect Journalists in their demand for a fair contract. 
The WGA East and CPJ share an institutional commitment to advocating for the safety, security, and freedom of writers. We therefore urge CPJ management to reinforce that commitment by agreeing to a union contract which:
fosters a more diverse, equitable, and sustainable workplace through increased salary minimums and fair across-the-board pay increases; and
demonstrates CPJ's recognition of—and investment in—their staff's work by codifying the organization's health and retirement benefits in the contract.
After a year of negotiations, it's time for a contract at the Committee to Protect Journalists."
Additional signers of the petition include Kyle Bradstreet (MR. ROBOT), Adam Brooks (PRACTICAL MAGIC), Stephen Chbosky (RENT), Lucinda Coxon (THE DANISH GIRL), Ezra Edelman (OJ: MADE IN AMERICA), Tom Fontana (CITY ON A HILL), Jonathan Franzen (PURITY), Chris Gethard (THE CHRIS GETHARD SHOW), James Ivory (CALL ME BY YOUR NAME), Warren Leight (LAW & ORDER: SVU), Adam McKay (VICE), Hawk Ostby (CHILDREN OF MEN), Julie Rottenberg (DIVORCE), David Riker (DIRTY WARS), Will Scheffer (BIG LOVE), Steven Schiff (THE AMERICANS), and Diana Son (13 REASONS WHY).
View the full petition here.
Back to top