Announcing the Writers Guild Initiative's Support Staff Training Program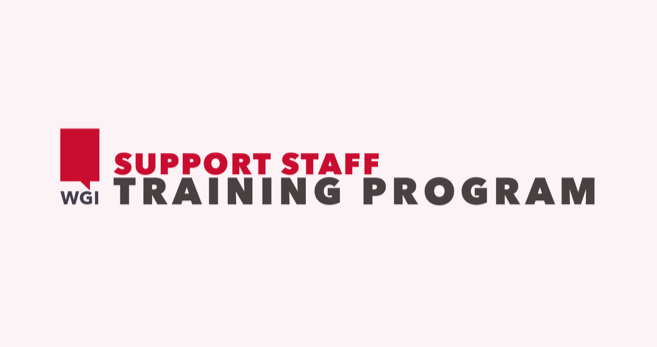 NEW YORK, NY (April 19, 2022) – Writers Guild Initiative (WGI), the independent non-profit associated with Writers Guild of America, East (WGAE), is pleased to announce the launch of its Support Staff Training Program.
The online program is intended for emerging, diverse writers (BIPOC, LGBTQIA+, disabled, over 40-years-old) who are based in the eastern half of the United States (including Chicago, Atlanta, Miami and New York), looking to break into television at the support-staff level, and have not previously worked as writers assistants or script coordinators on a scripted television series.  The program will operate with two career tracks: writers assistant and script coordinator.
Designed as a bootcamp for individuals with previous industry experience, specifically production assistants, the WGI Support Staff Training Program will launch in May 2022. Program coursework for both career tracks include trainings on industry-standard programs like Scenechronize and Final Draft, as well as virtual writers room simulations to develop note taking, copy editing, communication and presentation skills.  Both tracks will receive instruction through a mix of roundtables, independent work, interactive workshops and 1:1 informationals.
WGA East member Ian Olympio (P-VALLEY) is leading creative direction of the Support Staff Training Program, and developed the program in response to the challenges he faced filling in support staff roles for season two of P-VALLEY.  With over 600 resumes and only three positions to fill, Olympio found few applicants clear on the demands of working in a writers room.  This challenge inspired him to recruit his Guild colleagues to create a program that improves the pipeline and provides career education.
"Everyone starts without experience. It's finding the right opportunities to be taught and nurtured that makes all the difference—that changes lives and builds careers. I'm living proof of this. It's my hope to impart universal skills and build a network of connections for the next wave of Pre-WGA writers. So that when they do get that first support staff job, they're already primed for success," says Olympio who previously participated in the WGA East's Made in NY Writers Room, a fellowship for emerging writers
WGA East vice president Lisa Takeuchi Cullen, who also co-chairs the WGA East Committee for Inclusion and Equity and is co-founder of Pathways to the WGA East for Pre-WGA writers, connected with NBCUniversal to fund the pilot program.
"I am deeply proud of my employer NBCUniversal for providing the funding to kick off this important initiative for BIPOC emerging writers, who have long been told support staff jobs are the way into writers' rooms and therefore into the Guild. In fact, they can get stuck in those roles for years, partly because 'there's no one else' to take their place.This program will help unclog the pipeline by providing trained support staff to fill those gaps," says Takeuchi Cullen who is a TV writer/producer (THE ENDGAME, SVU) who is under an overall deal at Universal Television.
"We are proud to support the inaugural WGI Support Staff Training Program. We believe that the way to create meaningful change is to provide valuable insight and access for talented writers to enter and thrive in this industry – an approach that the WGA East shares," said Jeanne Mau, Senior Vice President, TV Programming Diversity, Equity & Inclusion, NBCUniversal. "This new initiative will help meet a critical need for early career writers from diverse backgrounds, and complements our efforts to increase diversity on our content by shepherding the next generation of writers and ultimately showrunners."
The Writers Guild Initiative's programs are dedicated to bringing professional film and television writers together with vulnerable communities who would benefit from self-expression through writing.
The first cycle of the program will allot up to 100 applications via Coverfly.  All applicants will submit a five-page script sample, as well as respond to a six-part questionnaire.  Up to 10 applicants will be accepted into either the writers assistant or script coordinator track.
The WGI Support Staff Training Program launches amid 42 current scripted television series written and produced in New York.  The WGI Support Staff Training Program is run by working television writers and former support staff.  Olympio has convened fellow Guild members to run workshops, Matt Fennell (BILLIONS, BRAND NEW CHERRY FLAVOR), Tian Jun Gu (HOUSE OF CARDS, MONARCH) and Nina Stiefel (FILTHY RICH, P-VALLEY), as well as Sheli Paige Frank, Justin Weinberger, and Matthew Begbie, who worked as writers assistants and script coordinators. Member Jenna Bond (RUN THE WORLD) will manage the application process.
The application can be found here. (https://writers.coverfly.com/competitions/view/the-writers-guild-initiative-support-staff-training-program?season=2022)
###
Back to top