Thursday February 11, 2021
Black History Month Talks with Ruben Santiago-Hudson, Suzan-Lori Parks, and Shaka King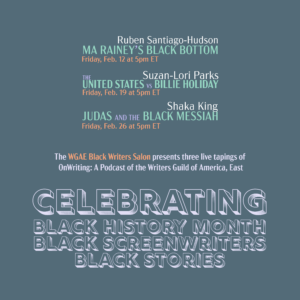 In honor of Black History Month, please join the WGAE Black Writers Salon at a series of live-tapings of OnWriting: A Podcast of the Writers Guild of America, East with three esteemed Black screenwriters – Ruben Santiago-Hudson, Suzan-Lori Parks, and Shaka King – who all have excellent new films about Black icons.
The talks will be held on Zoom and moderated by OnWriting host Geri Cole, who also co-chairs the Black Writers Salon. Cole will be joined by fellow WGAE Black Writers Salon co-chairs Rashidi Hendrix and Marc Theobald. The hosts will also moderate audience questions.
Here's the line-up and link to RSVP:
This Friday, February 12, 5:00pm ET
Ruben Santiago-Hudson
Screenwriter of MA RAINEY'S BLACK BOTTOM
RSVP HERE
Friday, February 19, 5:00pm ET
Suzan-Lori Parks
Screenwriter of THE UNITED STATES VS. BILLIE HOLIDAY
RSVP HERE
Friday, February 26, 5pm ET
Shaka King
Screenwriter of JUDAS AND THE BLACK MESSIAH
RSVP HERE
Ruben Santiago-Hudson wrote the screenplay for  MA RAINEY'S BLACK BOTTOM, an adaptation of August Wilson's play. Set during a recording session in 1920's Chicago, tensions rise between "Mother of the Blues" Ma Rainey (Viola Davis) and her ambitious horn player Leevee (Chadwick Boseman). Santiago-Hudson also wrote the award-winning play and Emmy-nominated teleplay for LACKAWANNA BLUES.
Suzan-Lori Parks is a Pulitzer Prize-winning playwright and screenwriter for the forthcoming film, THE UNITED STATES VS. BILLIE HOLIDAY, adapted from Chasing the Scream: The First and Last Days of the War on Drugs by Johann Hari. This film, directed by Lee Daniels, follows Holiday (Andra Day) during her career as she is targeted by the Federal Department of Narcotics with an undercover sting operation led by black Federal Agent Jimmy Fletcher (Trevante Rhodes), with whom she had a tumultuous affair.
Shaka King is the co-writer and director of JUDAS AND THE BLACK MESSIAH. The film's screenplay is by Will Berson & Shaka King; story by Will Berson, Shaka King, Kenny Lucas, and Keith Lucas. JUDAS AND THE BLACK MESSIAH is the incredible story of Fred Hampton (Daniel Kaluuya), Chairman of the Illinois Black Panther Party, and his fateful betrayal by FBI informant William O'Neal (LaKeith Stanfield).
Check out these recent OnWriting podcast episodes.
If you are a WGAE member interested in joining the WGAE Black Writers Salon, please email bfryer@wgaeast.org.
Back to top