Crooked Media Workers Unionize with the WGAE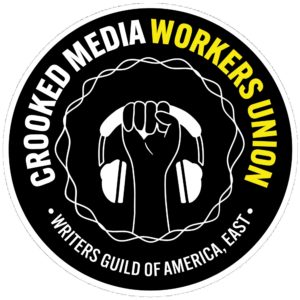 New York and Los Angeles (February 6, 2023) – An overwhelming majority of content creators  at Crooked Media, the popular podcast production company founded by former Obama staffers, signed cards to unionize with the Writers Guild of America, East (WGAE) for the purpose of collective bargaining. The Crooked Media Workers Union has called on management to voluntarily recognize the union.
Crooked Media produces hit podcasts Pod Save America, What A Day, Hysteria, Lovett It or Leave It, Keep It, Edith!, Hall of Shame, Pod Save the People, The Wilderness, Wind of Change, and many more.
Lowell Peterson, Executive Director of the Writers Guild of America, East, said, "As audiences and creative opportunities expand for podcast storytelling, the Guild is proud to work with the storytellers to gain a voice on the job and to improve conditions in this vital sector." 
The 55-member bargaining unit today delivered management a "Why We're Organizing" letter that reads:
We — the producers, writers, designers, editors, engineers, and staff of Crooked Media — are unionizing with the Writers Guild of America, East. 
We are the workers who make Crooked Media's entire slate of digital content, campaign initiatives, and nationwide live events possible. Our content regularly wins awards, tops industry charts, and generates millions of dollars in revenue and partnerships for the company. Most importantly, we create products which uphold the company's expressed mission to "inform, entertain, and inspire."
We are immensely proud of what we produce here at Crooked. In 2022, the company struck a multi-year deal with SiriusXM, acquired a major investment from billionaire George Soros's investment firm Soros Fund Management, and brought on the first Chief Executive Officer to manage Crooked's explosive growth. It is our exceptional work which attracts the investment of outside parties, and it is therefore one of the goals of this union to ensure that their intervention does not lead to the degradation of our working conditions, which has unfortunately already begun.
As the company continues to grow, retain more stakeholders, and implement large structural changes, we want to have a seat at the table of these discussions. We aim to protect the assets of our work environment that drew us to Crooked in the first place, while also addressing conditions that lead to high turnover and low morale. Crooked has been increasingly unable to consistently attract and retain top industry talent due to less-than-competitive compensation, inadequate cost-of-living increases, and an unequal imposition of in-person work requirements and relocation costs. In short, we want to see Crooked become the equitable workplace it purports to be. 
Internal discussions regarding our company's approach to race, class, and broader inequalities on a staffing and programming level have been ongoing, but few signs have emerged from management that these conversations will lead to substantive action or meaningful change. Through collective bargaining, we can ensure that the needs of our most vulnerable coworkers come first. 
Through organizing, we have found a space to speak openly about our experiences and needs as workers, an avenue for collective feedback which the company has not provided. In those conversations, several recurring themes emerged. We look forward to discussing these core principles at the bargaining table: 
Protections and Benefits – pay equity and transparency, severance and leave policies, and overtime/workload regulations for full-time staff;

Clarity – increased transparency on promotion requirements, role scope, and job ladders, and improved review processes;

Consistency – Guarantees that company policies and benefits will apply to all employees equally; 

Deeper inclusivity – Prioritization of diversity in hiring, retention and advancement of employees of color, and transparency around how this is achieved.
Over the past several months, we have come to understand our union as both an extension of the collaborative work we already do, and a means by which to successfully continue that work. To that end, we seek a bargaining unit that will be inclusive of roles across the company. Every one of our colleagues does creative work that is integral to the success of our products, and all deserve equal representation under one union. 
We are excited to stand alongside our fellow unionized workers in podcasting (Gimlet, iHeartRadio, Pineapple Street Studios, Vox, NPR, WNYC, Marketplace) and in media more broadly. Unionization is the present and future of our industry. We are inspired by recent labor victories at Apple, Amazon, Starbucks, Trader Joe's, and more, victories that our company rightly celebrates in its content. Crooked Media's mission statement as set forth by our founders is to "build a more equitable, inclusive, and just society through progressive conversation, storytelling, and activism." It is our hope that, through voluntary recognition of our unit, Crooked Media leadership will signal that they are truly committed to that mission, not just in word but in deed.  
In addition to Crooked Media, the WGAE represents workers at podcast production companies Gimlet Media, the iHeart Podcast Network, Parcast, Pineapple Street Studios, and the Ringer. The Guild represents 7,000 workers in film, television, news, podcasts, and online media.
ABOUT THE WRITERS GUILD OF AMERICA, EAST
The Writers Guild of America, East, AFL-CIO (WGAE) is a labor union representing writers in film, television, news, podcasts, and online media. The Guild negotiates and administers contracts that protect the creative and economic rights of its members; conducts programs, seminars and events on issues of interest to writers; and presents writers' views to various bodies of government. For more information on the Writers Guild of America, East, visit wgaeast.org.
###
Back to top