Event Details
Friday
November 13, 2020
2:00 pm
via Zoom
RSVP
Based on the novel by Walter Tevis, the Netflix limited series drama THE QUEEN'S GAMBIT is a coming-of-age story that explores the true cost of genius.
Abandoned and entrusted to a Kentucky orphanage in the late 1950s, a young Beth Harmon (Anya Taylor-Joy) discovers an astonishing talent for chess while developing an addiction to tranquilizers provided by the state as a sedative for the children. Haunted by her personal demons and fueled by a cocktail of narcotics and obsession, Beth transforms into an impressively skilled and glamorous outcast while determined to conquer the traditional boundaries established in the male-dominated world of competitive chess.
The Queen's Gambit is streaming on Netflix.
Written by Scott Frank
Co-creators Scott Frank & Allan Scott
Based on the novel by Walter Tevis
Directed by Scott Frank
Cast: Anya Taylor-Joy, Marielle Heller, Thomas Brodie-Sangster, Moses Ingram, Harry Melling and Bill Camp.

About Scott Frank

Scott Frank's screenplays include LITTLE MAN TATE, DEAD AGAIN, MALICE, HEAVEN'S PRISONERS, GET SHORTY, OUT OF SIGHT, MINORITY REPORT, THE INTERPRETER, THE LOOKOUT(also directed),MARLEY & ME, THE WOLVERINE, WALK AMONG THE TOMBSTONES(also directed), LOGAN, the Netflix limited series, GODLESS (also directed) and THE QUEEN'S GAMBIT (also directed). OUT OF SIGHT and LOGAN were both nominated for Academy Awards for Best Adapted Screenplay. OUT OF SIGHT won the WGA Award for Best Adapted Screenplay, the Edgar Award from the Mystery Writers of America as well as Best Screenplay awards from the National Society of Film Critics and the Boston Society of Film Critics.
LOGAN was also nominated for a Writers Guild Award for Best Adapted Screenplay. GET SHORTY was nominated for both a Golden Globe and a Writers Guild Award for Best Adapted Screenplay. His directorial debut, THE LOOKOUT,won the Independent Spirit award for Best First Feature. GODLESS was nominated for 12 Emmy awards, including nominations for writing and directing, as well as a nomination from the Directors and Writers Guilds.
Mr. Frank is currently adapting the Maria Doria Russell novel, The Sparrow, into a limited series for director Johan Renck (CHERNOBYL)and F/X. Mr. Frank's first novel, Shaker, was published by Knopf in 2015.
Mr. Frank serves as an Executive Producer on the STARZ series PANTHER BABY based on Jamal Joseph's autobiography about his life in The Black Panthers. He will direct the pilot and episodes of TWIN TERRITORIES, a western series based on the life of African American lawman Bass Reeves for Amazon. He is also overseeing the writing and will direct episodes on DEPT. Q, a British series for Left Bank (THE CROWN), based on the bestselling crime novels by Danish author, Jussi Adler Olsen.
Mr. Frank and Tom Fontana have co-written a French series, MONSIEUR SPADE, about the fictional detective, Sam Spade, living out his later years as an expat in the south of France in the early 1960's.
About Kiara Jones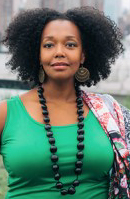 Always a lover of story, Kiara C Jones started on her path to filmmaking as a writer. She spent her adolescence in Jacksonville, Florida creating impressive short stories and poetry. Kiara explored Hip-Hop lyricism, then traded her mic for a lavaliere working as a broadcaster for the US Air Force. Kiara wrote the short film, Barbasol (Director Ralph Scott), which won the Audience Award at Urbanworld 2012.
The Directors Guild of America honored Kiara with the Grand Jury Award for writing and directing her debut feature, Christmas Wedding Baby 2015, (Urbanworld, VIACOM, BET, Netflix) She collaborated with Oscar winning Writer, Geoffrey Fletcher as the US winner for the Bombay Sapphire Imagination Series (TriBeCa). Her screenplay, BROKER was selected for NYU Graduate Film's coveted "Purple List" of best screenplays 2016. Kiara is 2019 BRIO Award Winner for her Sci -Fi Drama pilot, Proxima which is currently being considered by HBO through the IFP/Blackhouse Lab.
Back to top