FilmNation Entertainment and Writers Guild of America, East Announce Second NY Screenwriting Fellowship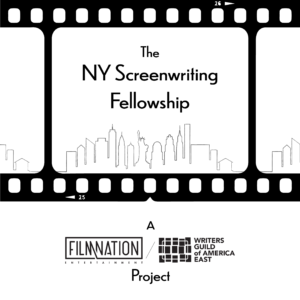 NEW YORK, NY (November 11, 2022) – FilmNation Entertainment and the Writers Guild of America, East announced that applications are now being accepted for the second NY Screenwriting Fellowship to support early-career, New York City-based screenwriters who are underrepresented in the film industry and have demonstrated a rigorous commitment to their craft. 
The NY Screenwriting Fellowship is a weekly intensive that runs from early April through August 2023. Eight or more writers will be provided with both a screenwriting mentor and an executive mentor, as well as seminars, receptions, and other introductions, as they develop a new feature length screenplay during the Fellowship. The Fellowship will culminate with table reads of the participants' works and a dinner with leaders of the New York film industry. The goal of The NY Screenwriting Fellowship is to diversify the pool of writers who have access to the meetings and projects that offer career sustainability.
Confirmed mentors for the Fellowship include Alexander Dinelaris ("Birdman or (The Unexpected Virtue of Ignorance)"), James V. Hart ("Contact," "Hook"), and Peter Hedges ("Pieces of April," and "What's Eating Gilbert Grape").
To apply to the NY Screenwriters Fellowship and review all requirements, visit https://filmfreeway.com/NYFellowship.
Applicants for the NY Screenwriting Workshop must be referred to the program by organizations including Almanack Screenwriters, Austin Film Festival, The Black List, The Dramatists Guild, Ghetto Film School, Reel Works, Urbanworld Film Festival, WGAE Indie Caucus, and The Writers Lab.
The program will accept up to 100 applications, until November 30, 2022, on a first come first served basis. Applicants who do not have relationships with any of the referring organizations set forth above should feel free to apply to the program through the Lottery Application. A limited number of submissions will be randomly selected from Lottery Applications to ensure that the program is accessible to all.
Applicants accepted to the Fellowship are required to attend virtual and in-person seminars and group writing sessions a minimum of two evenings per week for the duration of the program (April through August). In-person meetings will take place at either the WGA East or FilmNation Entertainment offices in New York City. 
"The NY Screenwriting Fellowship, and our partnership with FilmNation Entertainment, demonstrate our long-standing commitment to championing an inclusive industry and fostering communities of writers here in New York," said Lowell Peterson, Executive Director of the Writers Guild of America, East.
Liz Siegal, Director of Physical Production at FilmNation Entertainment, said, "We look forward to another exciting year of engaging with the next generation of screenwriters along with our friends at the WGAE. Experiencing the talent and commitment from writers in our workshop has been a true inspiration, and we can't wait to get started with this session."
Final Draft is serving as the sponsor of the 2023 Fellowship and will provide Fellowship participants with software and other promotional materials.
ABOUT THE WRITERS GUILD OF AMERICA, EAST
The Writers Guild of America, East, AFL-CIO (WGAE) is a labor union representing writers in film, television, news, podcasts, and online media. The Guild negotiates and administers contracts that protect the creative and economic rights of its members; conducts programs, seminars and events on issues of interest to writers; and presents writers' views to various bodies of government. For more information on the Writers Guild of America, East, visit wgaeast.org.
ABOUT FILMNATION ENTERTAINMENT
FilmNation Entertainment is a leading producer, financier and distributor of film, television, theater and audio. Since being founded in 2008, FilmNation has grown organically from its roots in independent film by leveraging its bold creative taste and experience entertaining global audiences. FilmNation has worked with many of the world's most renowned filmmakers and storytellers including Pedro Almodóvar, Rian Johnson, Armando Iannucci, Mindy Kaling, Pablo Larraín, Sean Baker, Emerald Fennell, Derek Cianfrance and Denis Villeneuve. The company has established itself as a home for specialty filmmaking with global appeal by focusing on a highly selective group of filmmakers and projects that emphasize both creative integrity and commercial potential.
Consistently ranked as one of the highest-grossing independent international film distributors, FilmNation has produced award-winning box office hits that include PROMISING YOUNG WOMAN, THE COURIER, THE PERSONAL HISTORY OF DAVID COPPERFIELD, ARRIVAL, and THE BIG SICK, and released THE KING'S SPEECH, ROOM and THE IMITATION GAME. Current releases include Pablo Larraín's SPENCER starring Kristen Stewart, Pedro Almodóvar's MADRES PARALELAS starring Penélope Cruz and Sean Baker's RED ROCKET.
The studio's first television series I Know This Much Is True for HBO garnered Mark Ruffalo an Emmy Award for his lead role. The company announced in early 2019 the launch of its UK-based television production company with Nordic Entertainment Group. FilmNation has produced the Tony winning The Band's Visit and The Sound Inside and the West End's critically acclaimed True West. The company most recently produced podcasts SNAFU with Ed Helms, Hyper-Thetical and Murder on the Towpath for Luminary and Torched for Stitcher.
###
Back to top