Gothamist and DNAinfo To Unionize with Writers Guild of America, East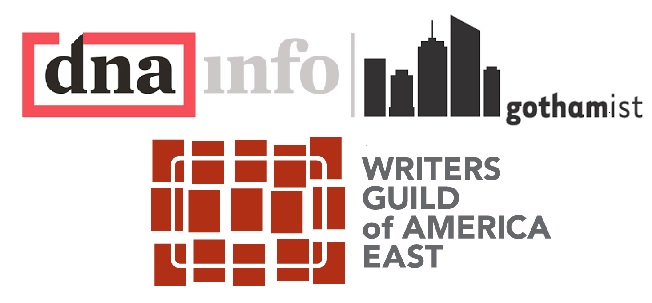 NEW YORK, NY (April 12, 2017) – The editorial staffs at the recently merged Gothamist and DNAinfo today announced plans to unionize with the Writers Guild of America, East, AFL-CIO (WGAE). A majority of Gothamist and DNAinfo's 26 editorial employees have signed cards declaring the Writers Guild of America, East as their representative in collective bargaining.
"Collective bargaining works.  It empowers digital journalists to make gains in their working conditions and to ensure that their voices are heard," said Lowell Peterson, Executive Director of the Writers Guild of America, East. "We are very pleased to welcome the editorial employees at Gothamist and DNAinfo to our community of creative professionals."
The DNAinfo-Gothamist Organizing Committee issued the following statement:
The editorial workers of Gothamist and DNAinfo are joining the Writers Guild of America East, with union cards signed by an overwhelming majority of staff.
Digital journalism is constantly changing. In light of our recent merger, we think that this is the moment to determine fair policies regarding compensation, benefits, termination, severance, and editorial standards. This will make the newsroom stronger by preserving our unique editorial voices and allowing the company to attract and retain quality journalists, now and into the future.
The coverage and commentary we provide our readers can't be found elsewhere. We're proud to be the public's eyes and ears across the neighborhoods we cover.
We are as devoted to the success and vitality of the sites we write for as our executives and owner. Together, we can come up with a contract that provides us with needed safeguards and benefits while also assuring management's ability to keep the sites robust and compelling for years to come.
In addition to Gothamist and DNAinfo, the Writers Guild of America, East represents staffs at The Intercept, The Huffington Post, VICE, Gizmodo Media Group (Gizmodo, Jezebel, Deadspin, Lifehacker, Kotaku, io9, Jalopnik), Fusion, The Root, ThinkProgress, MTV News, Thrillist, Salon and Slate.
ABOUT WRITERS GUILD OF AMERICA, EAST
The Writers Guild of America, East, AFL-CIO (WGAE) is a labor union representing writers in motion pictures, television, cable, digital media and broadcast news. The Guild negotiates and administers contracts that protect the creative and economic rights of its members; conducts programs, seminars and events on issues of interest to writers; and presents writers' views to various bodies of government. For more information on the Writers Guild of America, East, visit wgaeast.org.
###
Back to top