Thursday February 24, 2022
iHeart Podcast's Union Wins Voluntary Recognition with Writers Guild of America, East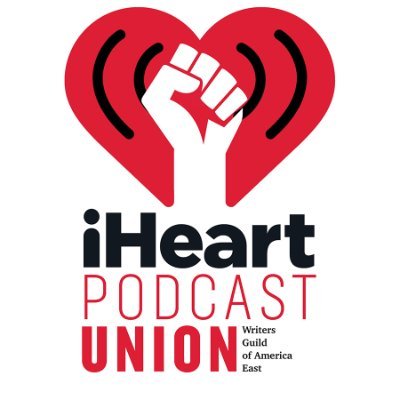 NEW YORK, NY (February 24, 2022) – The writers, producers, editors, and other storytellers at the iHeart Podcast Network – the fastest growing division of iHeartMedia – won voluntary recognition of the Writers Guild of America, East (WGAE) as their representative for the purpose of collective bargaining. The recognition comes after a third-party card check confirmed that an overwhelming majority of employees in the bargaining unit signed union cards with the Guild.
The approximately 110-member iHeartPodcast Network bargaining unit is based in Atlanta, Los Angeles and New York City.
The iHeart Podcast Network includes hit series like "Stuff You Should Know," "Fake Doctors, Real Friends," "The Ron Burgundy Podcast," "Las Culturistas," "Bridgewater," "Noble Blood," and "Committed," among many others.
The iHeart Podcast Network Organizing Committee said, "We're incredibly excited to win official union recognition and secure our seat at the table to bargain for appropriate wages and benefits, accountability mechanisms, and other long-standing issues for our colleagues and ourselves. The iHeart Podcast Union represents over a hundred employees who drive the creation of a swath of shows for one of the largest audio media companies in the world. This victory stands to set important precedents in our field and for workers at large. We owe our success to our colleagues who've led previous efforts at shops like Gimlet, Parcast, and The Ringer, and to the folks at the WGAE. We endeavor to improve the working conditions for all in our industry, and hope that this trend will continue across creative fields and beyond. We now look forward to engaging in good-faith negotiations with the company, and are confident that this process will ensure the continued success and stability of the podcast industry."
In addition to the iHeart Podcast Network, the WGAE represents workers at podcast production companies Gimlet Media, Parcast, and the Ringer. The Guild represents 7,000 workers in film, television, news (broadcast and digital) and podcasts.
###
Back to top