Wednesday October 14, 2015
INK MASTER Live Finale Picketed By WGAE, NYC Councilmembers, NYC Central Labor Council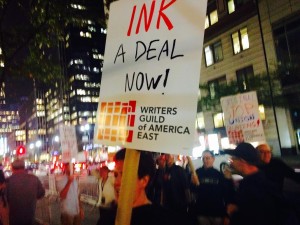 NEW YORK, NY (OCTOBER 14, 2015) – The Writers Guild of America, East (WGAE) led a picket and protest at the live finale of Spike TV's INK MASTER, which is produced by Original Media, the nonfiction production company recently found to have violated federal labor law by failing to negotiate in good faith with the union.
Outside the Hammerstein Ballroom in Midtown Manhattan, the WGAE were joined on the picket line by New York City Councilmembers I. Daneek Miller and Corey Johnson, representatives from the New York City Central Labor Council and a contingent of writers, producers and union supporters.
The protest drew further attention to Original's shameful disregard for its own writers and producers, who have sought a collectively bargained contract for over a year. Earlier this month, more than 5,250 people signed a petition calling on Spike TV President Kevin Kay to support the rights of INK MASTER writers and producers.
WGAE Executive Director Lowell Peterson stated, "Spike TV needs to recognize that audiences care about how the people who make their favorite shows are treated.  Original Media has shown the back of its hand to its writer-producers and we hope Spike will join us in calling the company out on it."
Councilmember Miller, Chair of the City Council's Committee on Civil Service & Labor, said "Last year I held hearings on working conditions in the nonfiction/"reality" TV industry.  The men and women who write and produce these popular – and profitable – shows told us about long hours and tight schedules, working for production companies that cut corners on overtime pay and safety.  It is not acceptable for Original Media to follow this low road strategy, failing to negotiate a reasonable contract with the Writers Guild of America, East."
Councilmember Johnson, whose district includes Original Media's headquarters, "When the writer-producers at Original Media voted overwhelmingly to join the Writers Guild of America, East to bargain collectively, I wrote to the company urging it to respect this decision and to negotiate a fair contract. When I learned that the company had failed to do this, I wrote another letter to the new management team.  Original cannot continue to ignore its obligations to bargain in good faith and to treat its employees with the respect they have earned with their hard work and dedication."
New York City Central Labor Council President Vincent Alvarez added "Months have passed since writer-producers at Original Media voted overwhelmingly to join the Writers Guild of America East, and to date the company has refused to negotiate a contract. Original Media has an obligation to bargain in good faith with its employees.  The New York City Labor Movement will continue to stand with these workers, and with the Writers Guild of America East, to ensure that the workers receive the wages, benefits, protections, and contract they deserve."
The action against Original comes on the same day writer-producers at Leftfield Entertainment, the largest nonfiction production company on the East Coast, overwhelmingly voted to unionize with the Writers Guild of America, East.  The WGAE now represents a critical mass of writer-producers in nonfiction TV.  In addition to Leftfield and Original, WGAE represents writer-producers at the Kirkstall Road Enterprises, Sharp Entertainment, Optomen Prods, Lion TV and Jane Street Entertainment.
ABOUT WRITERS GUILD OF AMERICA, EAST
The Writers Guild of America, East, AFL-CIO (WGAE) is a labor union representing writers in motion pictures, television, cable, digital media and broadcast news. The Guild negotiates and administers contracts that protect the creative and economic rights of its members; conducts programs, seminars and events on issues of interest to writers; and presents writers' views to various bodies of government. For more information on the Writers Guild of America, East, visit wgaeast.org.
Back to top