Tuesday November 29, 2016
Lewis Black To Host Writers Guild Awards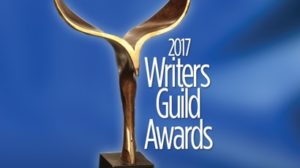 NEW YORK, NY (November 29, 2016) – Lewis Black will host the 2017 Writers Guild Awards ceremony at New York's Edison Ballroom on Sunday, February 19, 2017.
The New York ceremony will be co-executive produced by Bonnie Datt and Shannon Walker. Ann Cohen will serve as the show's head writer. This will be the first time the Guild's producing and writing team will all be led by women.
"I am honored to be the host of the 2017 Writers Guild Awards, of which I am a proud member," said Lewis Black. "Though all honors should go to the reality we have lived through for the past two years and are still living through, as it's the most profound fiction I've ever witnessed."
Now a renowned writer, actor, stand-up comedian and activist, Black began his career in New York City as a playwright-in-residence at the West Bank Café's Downstairs Theatre Bar. He oversaw the development of more than 1,000 plays, including works by WEST WING creator Aaron Sorkin, AMERICAN BEAUTY writer Alan Ball, as well as his own original works. Black has penned more than 40 plays, including THE DEAL, a dark comedy about business that was made into a short film in 1998 and picked up by the Sundance Channel.
In 1996, Black began ranting his way into America's heart with his signature "Back in Black" segment on Comedy Central's THE DAILY SHOW. The segment has been a staple of the show with hosts Craig Kilborn, Jon Stewart and Trevor Noah.
He has taped nine critically-acclaimed stand-up comedy specials, published three New York Times bestselling books and released multiple comedy albums, which earned him two Grammy awards for Best Comedy Album.
Black appeared in the 2015 ABC mini-series MADOFF, Barry Levinson's MAN OF THE YEAR (Universal Pictures) and Paul Feig's UNACCOMPANIED MINORS (Warner Bros.). He notably voiced the character "Anger" in the Academy Award-winning Pixar film INSIDE OUT.
Most recently, Black completed a sold-out limited engagement run at the Marquis Theatre on Broadway. He will begin a new stand-up tour, RANT, WHITE & BLUE, on December 2nd at San Francisco's The Masonic.
In addition to his work in the entertainment industry, he is a strong supporter of both the Cystic Fibrosis Foundation and Autism Speaks and was honored by The Brady Center for his commitment to ending gun violence. In 2012, he was honored by the ACLU of Georgia with their National Civil Liberties Award. Black also supports our military personnel and has performed in three tours with the USO, visiting several Middle Eastern and European military bases.
Co-executive producer Shannon Walker is co-founder and festival director of the Lower East Side Film Festival. She has been nominated for two Writers Guild Awards for the comedic web series VICKY & LYSANDER, for which she was the lead actress and a producer.
Co-executive producer Bonnie Datt is a comedy writer/producer, a fashion blogger, and, in a former life, an award winning stand-up comic. Her writing credits span television, print, stage and the web and include work for ABC, PBS, USA, Oxygen, The Disney Channel and Spy magazine. Datt has served on the Guild's Council since 2011 and has worked on the Writers Guild Awards in New York since 2009. In addition, she was on President Obama's 2012 reelection campaign's Entertainment Advisory Council.
Head writer Ann Cohen is a comedy writer and producer in New York. She was head writer and an executive producer for the six-year run of VH1's BEST WEEK EVER, BEST YEAR EVER and BEST DAY EVER. She served as head writer for the Michael Moore series THE AWFUL TRUTH and was a staff writer on TV NATION. She was a consulting writer on Moore's health care documentary SICKO. In addition, Cohen's other writing credits include time as a staff writer for POLITICALLY INCORRECT WITH BILL MAHER and Comedy Central's INDECISION WITH AL FRANKEN. She's been nominated for two Emmy awards and a Writers Guild Award.
The 2017 Writers Guild Awards New York show is sponsored by Vision Media Management and Elite Logistics and Fulfillment. The media sponsor is Crain's New York.
The Writers Guild Awards honor outstanding writing in film, television, new media, videogames, news, radio, promotional, and graphic animation categories. The awards will be presented at concurrent ceremonies on Sunday, February 19, 2017, in New York City at the Edison Ballroom and in Los Angeles at the Beverly Hilton. For more information about the 2017 Writers Guild Awards, please visit www.wgaeast.org or www.wga.org.
For media inquiries about the 2017 Writers Guild Awards New York show, please contact Jason Gordon in the WGAE Communications Department at (212) 767-7809 or jgordon@wgaeast.org.
For media inquiries about the 2017 Writers Guild Awards Los Angeles show, please contact Gregg Mitchell in the WGAW Communications Department at (323) 782-4651 or gmitchell@wga.org.
The Writers Guild of America, East (WGAE) and the Writers Guild of America, West (WGAW) are labor unions representing writers in motion pictures, television, cable, digital media, and broadcast news. The Guilds negotiate and administer contracts that protect the creative and economic rights of their members; conduct programs, seminars, and events on issues of interest to writers; and present writers' views to various bodies of government. For more information on the Writers Guild of America, East, visit www.wgaeast.org. For more information on the Writers Guild of America, West, visit www.wga.org.
###
Back to top