Made in NY Writers Room Fellowship Submission Deadline is December 9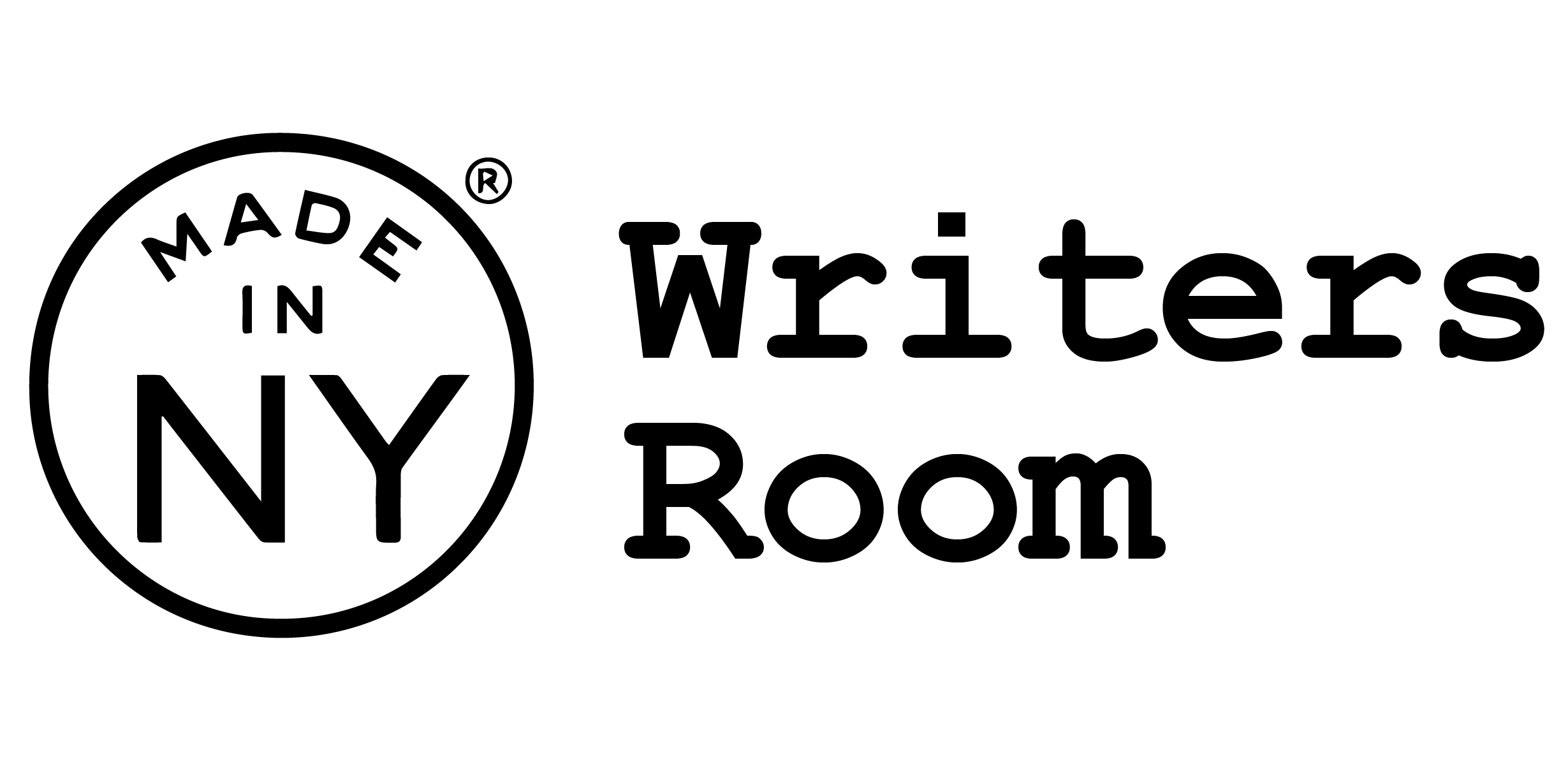 NEW YORK, NY (November 30, 2018) — Following a highly successful launch last year, the Made in NY Writers Room is now accepting applications for its second six-month fellowship program at www.wgaeast.org/writersroom. The deadline to apply is December 9, 2018.
The Made in NY Writers Room is a partnership between the Writers Guild of America, East (WGAE), the New York City Department of Small Business Services (SBS) and the City of New York Mayor's Office of Media and Entertainment (MOME). The Fellowship identifies emerging local writers with diverse backgrounds and viewpoints. Women, people of color, and individuals from other groups under-represented in the television landscape are encouraged to apply.
Through a competitive application process, up to 12 writers, either applying as individuals or writing teams of two (each individual and team referred to as a "writer"), will participate in a six-month paid fellowship during which they will be assigned a dedicated mentor who is a New York City-based showrunner.  The goal of the Fellowship is for the mentors to help propel the careers of under-represented writers.
The inaugural class mentors included Robert Carlock (UNBREAKABLE KIMMY SCHMIDT), Lee Daniels (EMPIRE), Anya Epstein (THE AFFAIR), Julie Klausner (DIFFICULT PEOPLE), Richard LaGravenese (THE DISTRICT), Michael Rauch (INSTINCT), Julie Rottenberg & Elisa Zuritsky (ODD MOM OUT), Tom Scharpling (MONK), Norman Steinberg (CHEMISTRY), Jonathan Tropper (BANSHEE), Matt Williams (HOME IMPROVEMENT) and Beau Willimon (THE FIRST).
Selected fellows will receive professional development opportunities and industry feedback to develop either an original drama or comedy pilot.  During the six-month fellowship period, fellows will have access to educational and professional development programs offered by the WGAE, industry feedback and guidance from their respective mentors and the opportunity to produce a live scene reading from their script by professional actors.
To apply, writers need to live in New York City and receive a referral from one of our program partners. Writers can get a referral to apply by either emailing miny@wgaeast.org or by reaching out to an existing contact at the WGAE Diversity Alliance, Austin Film Festival, Black Filmmaker Foundation, Black List, The Blackhouse Foundation, Borough of Manhattan Community College, Brooklyn College, Color Creative, Columbia University (MFA Television Writing Program), Dramatists Guild, Ghetto Film School/The Roster, Harlem Dramatic Writing Workshop, Independent Filmmaker Project (IFP) Media Lab, Magnet Theater, Ma-Yi Theatre Company, National Association of Latino Independent Producers, The National Black Theatre, The New School (College of Performing Arts), New York Television Festival, New York University (School of Continuing Professional Studies, Tisch), New York Women in Film and Television, Peoples Improv Theatre – Diversity, ReelAbilities Film Festival, Tribeca Film Institute, TV Writers Studio at Long Island University or the Upright Citizens Brigade.
The application process was first announced by Michael Rauch in the latest episode of OnWriting, a podcast of the WGA East, during a conversation about creating opportunities for diverse stories in New York with MOME Commissioner Julie Menin and WGAE Executive Director Lowell Peterson, who conceived the program.
Rauch noted, "I was lucky enough and honored to be a part of the Made In New York writers program last year. It seemed like such an incredible idea that it was hard to believe it hadn't existed before. It felt like an absolutely necessary thing to do."
Menin said, "One of the things I loved about this program—and why we are so thrilled to be doing it again—is there were 500 [applicant] scripts. Every single one of those writers received feedback on their script. So many writers said, 'I submit scripts all the time. I don't hear anything, I don't know what's wrong with them, I don't know if they're bad, I don't know how I need to change it.' By getting that direct feedback on their script, that's incredibly value added."
Peterson added, "It's hard to build a career, people hire who they know, studios only approve folks they've had experience with which is a sort of classic barrier to entry. Programs like this help us overcome that, and having deep and broad member support on our end has been very useful."
SBS Commissioner Gregg Bishop said, "Every day, SBS is carrying out the Mayor's plan to build a more vibrant and inclusive economy, by opening doors to economic opportunity for all New Yorkers," said Gregg Bishop, Commissioner of the Department of Small Business Services.  "The Made in NY Writers Room is an excellent example of how SBS partners with other City agencies and industry leaders to create programs that advance careers – and support a diverse, competitive workforce."
Bryan Parker, a fellow in the inaugural Made in NY Writers Room, said, "There are so many ways in which the program has benefited me from beyond the opportunity to just revise and improve upon my script.  My relationship with my mentor Jonathan Tropper has been invaluable. Having someone who champions your work, because they believe in your voice and understand what it's like to be a writer in search of a break, has given me more reassurance in my ability as a writer than I've ever had, and has opened industry doors previously shut."
Sarah Kraus, another fellow from the inaugural Made in NY Writers Room, added, "The Made in New York Writers Room combines precisely what an artist wants with what a professional needs. For the writer, it provides six months of financial support and dedicated time to develop your skills and your body of work.  For the professional, the Writers Guild of America, East facilitates industry relationships that form the foundation of a career and enable writers to transition into the professional world."
About the Department of Small Business Services (SBS)
SBS helps unlock economic potential and create economic security for all New Yorkers by connecting New Yorkers to good jobs, creating stronger businesses, and building vibrant neighborhoods across the five boroughs. For more information, visit nyc.gov/sbs, call 311, and follow us on Facebook, Twitter, and Instagram.
About the Mayor's Office of Media and Entertainment (MOME)
The Mayor's Office of Media and Entertainment encompasses the creative sectors of film, television, radio, theatre, music, advertising, publishing, and digital content. In total, these industries support 305,000 jobs and contribute $100 billion to New York City's economy. The Agency also oversees NYC Media, the City's official broadcast network with five television channels, one radio station, and a reach of 18 million people. MOME also houses the Office of Nightlife, which was created in 2018 to serve as a liaison between the nightlife industry, city agencies and residents. For more information, please visit: www.nyc.gov/mome.
About the Writers Guild of America, East (WGAE)
The Writers Guild of America, East, (WGAE) is a labor union of thousands of professionals who are the primary creators of what is seen or heard on television and film in the U.S., as well as the writers of a growing portion of original digital media content. Our members write everything from big budget movies to independent films, late night comedy/variety shows to daytime serials, broadcast and radio news, web series, documentaries, and animation. The WGAE works on their behalf to promote and protect the professional and artistic interests of this diverse community. On joining the Guild, writers from an extraordinarily vast range of backgrounds and abilities unite to promote, protect, and maintain important artistic and professional principles. The Guild's assistance is provided regardless of the writers' degree of success. For more information, please visit: www.wgaeast.org.
Back to top