My relationship with my mentor Jonathan Tropper has been invaluable. Having someone who champions my work…has given me more reassurance in my ability as a writer than I've ever had, and has opened industry doors previously shut.
Bryan Parker, 2017 Made in NY Writers Room Fellow
The inaugural cohort of the Made in NY Writers Room included 13 fellows who participated in weekly programs from June 2017 until November 2017.  Since the close of the 2017 cycle, half the class has either achieved employment in the television industry, placed in other competitive writing programs or taken development meetings.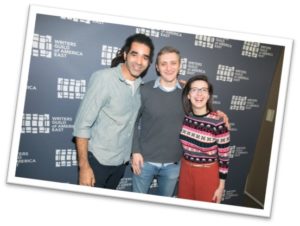 Highlights of the 2017 Made in NY Writers Room included:
An introduction to pitching by Kelly Edwards, VP of Talent Development and Programming, HBO
Writing the Show Bible with Kyle Bradstreet (MR. ROBOT) and Kevin Deiboldt (KEVIN PROBABLY SAVES THE WORLD)
Breaking into the Writers Room with Charla Lauriston (PEOPLE OF EARTH) and Angie Day (DONNIE)
Putting Together a Series with Derek Simonds (THE SINNER)
How to Break into the Industry with Tim McNeal, VP of Creative Talent Development, Disney/ABC
Fellows featured on the Final Draft podcast (September 2017)
Passes to and Featured Panel at 2017 New York Television Festival
We're excited for the continued success of this class.  Learn more about their backgrounds and current projects below.
Meet the 2017 Fellows
| | |
| --- | --- |
|   | MADALYN  BALDANZI |
| | Madalyn Baldanzi is a comedy writer, director, and teacher in New York City. Currently, she is developing a digital series with Nickelodeon. She also recently wrote for Go90's MR. STUDENT BODY PRESIDENT. At the Upright Citizen's Brigade Theatre, Madalyn wrote for several house teams and shows including running shows Bullshit Women, A Date With Every Boy, and currently, Sketch Cram. She is the co-writer of Above Average series KATIE: A LADY and was a long-time contributor to Funny Or Die.  She was a 2017 Made in NY Writers Room Fellow. Madalyn is extremely fond of teaching sketch comedy at the Upright Citizens Brigade Training Center. She also enjoys directing live theatre, as well as directing and producing videos through her production company, Fancy Family. Madalyn graduated from Swarthmore College and has an affinity for contemporary fiction. She is an avid follower of the US Women's National Soccer Team. |
| | |
| | KAITLIN FONTANA |
| | Kaitlin Fontana is a TV and film writer, director, and producer, and a National Magazine award-winning essayist. In a not-so-distant past life, she was a music journalist. Kaitlin is currently a Field Producer on Full Frontal with Samantha Bee. She is a 2018 NYTVF Development Deal recipient ("Peace," Audible) as well as a finalist in the 2018 HBOAccess Directing Fellowship. Her directorial debut, Franchesca, was an official 2018 Sundance Film Festival selection. Kaitlin is a 2018 WriteHer List Honoree, an inaugural 2017 Made in NY Writers Room Fellow, 2017 Showtime Tony Cox Award winner, and 2017 Bitch List Honoree, all for her pilot CASEY CAN'T, which is currently in development. She's also the creator and host of The Box, a live intersectional feminist late night comedy show. Her work has been featured on and in TBS, MTV,  Reductress, A&E, VH1, CBC, EnRoute, CTV, VICE, Vulture, Rolling Stone, Exclaim!, Chatelaine, and SPIN, among others. Kaitlin lives in Brooklyn, NY. She was born in Fernie, British Columbia, Canada, a distinction she shares with Rush guitarist Alex Lifeson. |
|   |   |
|   | OLEN HOLM |
| | Olen Holm is a screenwriter and actor based in Brooklyn, NY. Screenwriting includes DREEM PUSSY, a semi-finalist for the 2017 January Sundance Screenwriters Lab, chronicling the revenge a woman takes on past assailants after botched reassignment surgery from an underground physician; LEMONAIDS, a comedy pilot about a man coming to terms with the fact that with new medications he is no longer going to die from HIV; and the short film LOOK BOTH WAYS. Olen received a BA in French from UCLA and an MA in Cultural Anthropology from CIIS, focusing on postcolonial studies, globalization, and social and institutional forms of oppression and marginalization. His pilot is LEMONAIDS: After new medication ends a 20-year HIV death sentence, a single, aimless and broke 40-year old man living in Brooklyn is forced to move back in with his suburban Midwestern parents, work at the family factory, and reckon with a future he thought he would never have. LEMONAIDS takes a comedic look at a man – with the help of his family and friends back home – finally discovering his unrealized potential. |
|   |   |
|   | SARAH KRAUS |
| | Sarah Kraus is a Research Assistant for an HBO miniseries currently in development. Born in Richmond, Virginia, Sarah graduated from the University of Virginia, then moved to New York to study classical vocal performance at the Manhattan School of Music. She was an opera singer for ten years before writing her first pilot UNORTHODOX (NYTVF Scripts Official Selection) about a Hasidic family in Brooklyn who struggle to maintain their restrictive religious lifestyle amidst the temptations of New York City. Sarah developed the series in the Made in NY Writers Room fellowship under the mentorship of showrunner Anya Epstein (THE AFFAIR). Sarah also wrote RECONSTRUCTION, one of the Tracking Board's Top 100 Pilots of the year and a Cinequest Top 50 selection. In 1865, the first woman president in America leads a coalition of war widows and former slaves who revolutionize Southern society after the Civil War, at odds with a traditional patriarchy in the North. Sarah is currently working on ROXY, a family drama about a doctor who profits from the opioid crisis while battling her own addiction, and NATION, the story of a right-wing man who partners with a Native American tribe to combat federal encroachment. |
|   |   |
|   | IAN OLYMPIO |
| | Ian Olympio is a 27-year-old, New York-based filmmaker exploring identity—how we define ourselves vs. how the world defines us—through an intersectional lens. He is currently the Showrunner's Assistant on PUSSY VALLEY, a forthcoming premium cable drama from award-winning playwright Katori Hall. Ian's pilot, GREATER HEIGHTS, was the highest scored drama submitted to the 2017 Made in NY Writers Room program. |
|   |   |
|   | BRYAN PARKER |
| | Bryan Parker is a Brooklyn-based writer/director whose writing mixes Hollywood genres with socially conscious subject matter in film and television. He was the first person to transfer from a community college to Harvard University where he studied government and film, played varsity basketball. After graduation he played professional basketball in Europe before moving to Myanmar where he began making documentaries on human rights for the United Nations. His subsequent work took him to Southeast Asia, India, Colombia, Tanzania, and Haiti. In 2007, he switched to scripted narratives and began at Columbia University's MFA film program, where he won their prestigious FMI directing prize and graduated with honors. His TV pilot THE RIZE garnered him a WGA East Made in NY Writers Room fellowship, where he was mentored by Jonathan Tropper, he was also a finalist for the Sundance Episodic Labs and a Showtime Tony Cox Episodic finalist. His current feature PENDULUM made him as a finalist for the Nantucket Screenwriters Colony. |
|   |   |
|   | ZACK PHILLIPS |
| | Zack Phillips is a writer and performer in New York. He won a 2018 TV writing fellowship from the Screenwriters Colony and, with Natasha Vaynblat, won a 2017 Made in NY Writers Room fellowship from the WGA East. For two years, Zack was the head writer at Above Average and its sports site, The Kicker. At the Upright Citizens Brigade Theatre, Zack has performed and written for house improv, sketch, video and film teams for many years, and currently teaches sketch writing there. Zack also played a recurring role in Steven Soderbergh's THE KNICK. Other credits include: writer for TruTV's IMPRACTICAL JOKERS; staff writer for the Onion sports show GOOMF; contributor to Clickhole; finalist in the 2018 New York Television Festival's pilot script contest; writer of the series BIG THICK IDEAS for Above Average and LAURIE for IFC; and author of other pilots and hundreds of sketch videos. Previously, Zack worked as a print reporter in DC and New York. He and his wife have two daughters. www.zackjphillips.com |
|   |   |
|   | JOYCE SHERRI |
| | Virginia native, Joyce Sherrí, stepped off a Greyhound bus at New York City's Port Authority Bus Terminal on August 23, 2010. Armed with her passion for creative writing, Joyce hurled herself into the independent film capital of the world in pursuit of a career as a writer and director. The following year, Joyce was accepted into the Tisch Graduate Film program at New York University and in 2016 received an MFA in Filmmaking. Joyce's pilot script, THROUGH THE AGES, based on her thesis short film FOREVER, won best one-hour screenplay in the 2017 Fusion Film Festival and was selected for the Made in NY Writers Room, a fellowship developed by the WGA East in partnership with the NYC Mayor's Office of Media and Entertainment. Joyce is currently developing the television series version of her short film BEAUTY, in addition to her first feature SWEET SIXTEEN and a graphic novel version of her pilot script THROUGH THE AGES.  Joyce is represented by The Gersh Agency and Untitled Entertainment. |
| | |
| | MAE SMITH |
| | Mae Smith is a writer/director living in Brooklyn. She graduated from Columbia University and subsequently worked at Participant Media and the Agency for the Performing Arts. While at Columbia, Mae wrote and directed several plays and served as president of Columbia Undergraduate Film Productions. She is currently the producer, director, and co-writer of the comedic sex education web series, EDUCATED FLEAS, which will be released in early Fall. Mae discovered she was a comedy writer when she wrote dramas that made people laugh. She hopes to use humor to foster empathy in the place of stigma. Her pilot is TRIGGER WARNING: While investigating a policy that forces students struggling with depression off campus, Muslim transgender student journalist Fatimah gets kicked out of school and is forced to move in with three other eccentric students taking time off. Based on real policies at many universities, TRIGGER WARNING IS a half-hour dark roommate comedy about three women and a hapless dude navigating a stigmatized process in the face of an institution (and a racist squirrel!) that only recognizes them for their otherness. |
| | |
| | SOFIA QUINTERO |
| | Sofia Quintero is a writer and producer who tells stories that meet audiences where they are and take them someplace better. Raised in a working-class Puerto Rican-Dominican family in the Bronx, the Columbia University graduate and self-proclaimed "Ivy League homegirl" has published six novels and twice as many short stories across genres including YA, chick lit and "hip-hop noir." She co-founded Chica Luna Productions, which won the Union Square Award in 2006. She earned her MFA in Writing and Producing Television from the TV Writers Studio at LIU. Sofia's latest book is the award-winning YA novel SHOW AND PROVE. Her pilot is BONDS: female bail bond agent in the South Bronx takes an unorthodox approach to her business. |
| | |
| | NATASHA VAYNBLAT |
| | Natasha Vaynblat is a writer/performer on Comedy Central's EVERY DAMN DAY. Her Comedy Central Digital Presents standup set will be airing in January and she just completed the NBC Late Night Writer's Workshop. This summer Natasha was an NYTVF Scripts finalist with her pilot Beauty Be With You and headlined at Caroline's on Broadway for their Breakout Artist Series. When not doing standup she can be seen improvising every Saturday at UCB EAST with What I Did For Love. |
| | |
| | ALBERT WANG |
| | Albert Wang is a Brooklyn-based writer/filmmaker dedicated to writing and developing strong original content for Asian American and other underrepresented communities. Born and raised in Alabama, Albert aspires to create media content that can appeal to all audiences, both in the US and internationally. He has also written articles on the US-China film co-production business for various publications. Albert is a graduate of Stanford University, the University of Alabama School of Law, and life itself. His pilot is RECURSED: A hotshot tech entrepreneur loses everything, only to discover he has the ability to see ghosts. |
| | |
| | JOYCE WU |
| | Joyce Wu grew up outside of Detroit. After seeing her New York debut, Backstage hailed her as "a promising young playwright." She was awarded a scholarship to attend New York University's Tisch School of the Arts, from which she graduated in 2014 with a Master of Fine Arts degree in film production. Her short films have won awards at festivals around the world. Her first feature film SHE LIGHTS UP WELL screened at the United Nations, was acquired by American Express for its AmexNow app on Roku and Smart TVs, and is currently available on iTunes and VOD.Her pilot is MR. RIGHT: Frustrated with the "bro" culture at the dating app where she works, a user experience designer quits her job and through a chance encounter, meets a washed-up reality TV star and it sparks an idea for an on-demand service that pairs busy, ambitious women with attractive men. |
Back to top