Wednesday September 2, 2020
Parcast Unionizes with the Writers Guild of America, East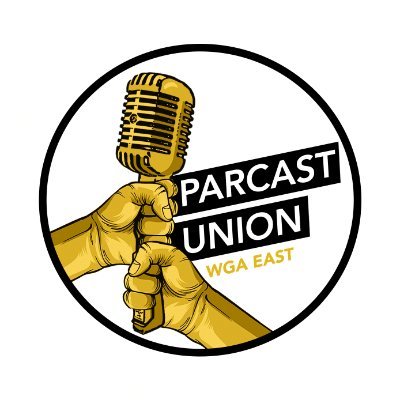 NEW YORK, NY (September 2, 2020) – The overwhelming majority of writers at Parcast, the popular storytelling podcast studio, has signed cards to unionize with the Writers Guild of America, East (WGAE) for the purpose of collective bargaining.
Parcast produces hit podcast series like Conspiracy Theories, Kingpins and Serial Killers, among many other True Crime and Nonfiction scripted series that are heard by millions of listeners. In March, Parcast announced that It had been acquired by Spotify. The WGAE represents employees at other Spotify-owned podcasters Gimlet and The Ringer.
Lowell Peterson, Executive Director of the Writers Guild of America, East, said, "We are thrilled to welcome Parcast writers to the Guild. Podcasting has grown enormously and the people who work in this medium deserve workplace protections and a voice on the job. By joining with the WGAE and bargaining collectively, these talented people will join a growing community of creative professionals dedicated to improving their rights on the job and in their work."
The Parcast Union Organizing Committee sent management a "Why We're Organizing" letter, which you can read in full here:
Parcast believes in podcasting — as a tool to educate, communicate, inspire, and entertain. 
We are proud to have joined Spotify and done our part in building the #1 podcasting platform in the world. Today, Parcast shows have surpassed 500 million downloads, have been translated into six languages, and are enjoyed in 40+ countries worldwide.
In four years, we've launched 44 shows, produced an unprecedented 2000+ hours of original, scripted content, and we continue to record 30+ hours of brand new material each and every week.
______
We, the writers, researchers, fact-checkers, hosts, and producers of Parcast, look to the future with optimism and excitement. But to ensure a workplace that remains dedicated to Spotify's core values — collaboration, innovation, passion, playfulness, and sincerity — we have chosen to unionize with the Writers Guild of America, East. 
Through collective bargaining, we hope to achieve growth in the following areas: 
Diversity, Equity, & Inclusion: A sincere commitment to creating a workplace as diverse and inclusive as the stories we tell. 
Workload & Overtime: A reasonable workload that leaves time for playfulness and innovation.  
Transparency & Compensation: Clear job descriptions, equitable compensation, transparent salary bands, and collaborative decision-making. 
Creativity & Intellectual Property: An environment where the ideas and voices of our passionate creators are valued and respected.    
We ask that Spotify recognize our union so that we might begin negotiating a contract.
From a single-room office in Woodland Hills to six recording studios in DTLA, telling stories to millions of people around the world, we know that anything is possible together.
The WGAE now represents nearly 7,000 writers in film, television, news and new media. In addition to Parcast, the WGAE represents newsrooms at ABC News, CBS News, CBSN, Chalkbeat, Committee to Protect Journalists, The Dodo, Fast Company, Fox 5 WNYW-TV, Future plc, Gimlet Media, G/O Media, Hearst Magazines, HuffPost, The Intercept, Jewish Currents, MTV News, Refinery29, The Ringer, Salon, Slate, Talking Points Memo, 1010 WINS, Thirteen Productions (Thirteen/WNET), Thrillist, VICE, Vox Media and WBBM / CBS 2 News.
ABOUT THE WRITERS GUILD OF AMERICA, EAST
The Writers Guild of America, East, AFL-CIO (WGAE) is a labor union representing writers in film, television, news and new media. The Guild negotiates and administers contracts that protect the creative and economic rights of its members; conducts programs, seminars and events on issues of interest to writers; and presents writers' views to various bodies of government. For more information on the Writers Guild of America, East, visit wgaeast.org.
###
Back to top