Wednesday December 11, 2019
Paula Pell to be Honored with the WGA East's Herb Sargent Award for Comedy Excellence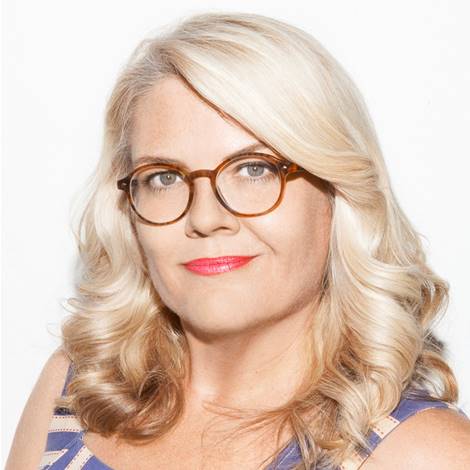 NEW YORK, NY (December 11, 2019) – The Writers Guild of America, East is proud to announce that it will present Paula Pell with the Herb Sargent Award for Comedy Excellence at the 72nd annual Writers Guild Awards ceremony at New York's Edison Ballroom on Saturday, February 1, 2020. The honorary award will be presented to Pell by Amy Poehler.
The Sargent Award is awarded to a writer who embodies the spirit, commitment and comic genius of Mr. Sargent, as well as his dedication to mentoring new writers. A legendary writer and television producer, Sargent served as president of the WGAE for 14 years and his credits include being a writer/producer of SATURDAY NIGHT LIVE for more than 20 years. The Sargent Award has been presented to influential comedy writers Judd Apatow, Tina Fey & Robert Carlock, Steve O'Donnell, Gary David Goldberg, Norman Stiles, Lorne Michaels and James L. Brooks.
"I am truly thrilled and honored to receive the WGA Herb Sargent Award for Comedy Excellence," said Pell. "I heard many stories of Herb's legendary work when I joined SNL in 1953. I will proudly put this next to my lifetime achievement award from Clever Matron Magazine."
A Guild member since 1996, Pell has mentored a generation of women comedy writers who have been influenced by her ability to craft jokes and characters that are sublimely funny and wickedly edgy, and only get funnier the more you hear them.
Pell spent 20 years at SATURDAY NIGHT LIVE, where she created numerous fan favorite characters and sketches, from Gilly and Debbie Downer to the Appalachian Emergency Room and Suze Orman. She may best be remembered for the classic sketches The Spartan Cheerleaders and the Justin Timberlake sketches Omeletteville, Homelessville, and Liquorville.
Paula is currently in production on the Quibi series, THE MAPLEWORTH MURDERS.  Pell is writing and starring in the series that centers around Abigail Mapleworth, played by Pell, a murder-mystery writer who solves homicides in her small town.  The series is expected to debut in Spring 2020.  Paula is also in production on the CBS All Access and Funny Or Die comedy series, NO ACTIVITY.  She will guest star in Season 3 of the show which is set to release in Fall 2020.
It was recently announced that Netflix has acquired Pell's upcoming feature comedy, HOMETOWN. The film will star Natasha Rothwell, who will be co-writing the script along with Michelle Lawler and Pell, who will also produce. Pell wrote the comedy SISTERS for Universal, which starred Amy Poehler and Tina Fey, and was based on her own childhood experiences. Pell wrote and produced many episodes of the hit NBC comedy, 30 ROCK.
She currently stars in Lorne Michaels' NBC comedy, AP BIO, opposite Patton Oswalt and Glenn Howerton.  It was recently announced that Season 3 of the show will air on NBCUniversal's Streaming Service.  Also, in 2019, Pell appeared in a critically acclaimed episode of DOCUMENTARY NOW! Inspired by the cast recording of Steven Sondheim's Company, the episode is so revered that IFC is issuing a vinyl cast recording. Her additional television credits include Showtime's SMILF, as well as recurring roles on Judd Apatow's Netflix series, LOVE, and the streamer's comedy series, BIG MOUTH.
On the big screen, Pell has appeared in numerous critically acclaimed films, including BIRDMAN, INSIDE OUT, and Chris Kelly's OTHER PEOPLE. She executive produced the Judd Apatow film, THIS IS 40. Pell was one of the stars in Amy Poehler's directorial debut for Netflix, WINE COUNTRY, a comedy that follows lifelong girlfriends on a celebratory trip to Napa, in which tensions from their past boil over.
The New York ceremony is sponsored by Vision Media Management, Bananagrams, Save the Cat! And iMoxie Media.
The Writers Guild Awards honor outstanding writing in film, television, new media, news, radio, and promotional categories. The 2020 Writers Guild Awards (72nd Annual) will be presented at concurrent ceremonies on Saturday, February 1, 2020, in New York City at the Edison Ballroom and in Los Angeles at The Beverly Hilton. For more information about the 2020 Writers Guild Awards, please visit www.wgaeast.org or www.wga.org.
For media inquiries about the 2020 WGA New York City show, please contact Jason Gordon in the WGAE Communications Department at (212) 767-7809 or email: jgordon@wgaeast.org.
For media inquiries about the 2020 WGA Los Angeles show, please contact Gregg Mitchell in the WGAW Communications Department at: (323) 782-4651 or email: gmitchell@wga.org.
The Writers Guild of America, East (WGAE) and the Writers Guild of America West (WGAW) are labor unions representing writers in motion pictures, television, cable, digital media, and broadcast news. The Guilds negotiate and administer contracts that protect the creative and economic rights of their members; conduct programs, seminars, and events on issues of interest to writers; and present writers' views to various bodies of government. For more information on the Writers Guild of America, East, visit www.wgaeast.org. For more information on the Writers Guild of America West, visit www.wga.org.
###
Upcoming Events
Quick Links
Back to top