Pineapple Street Studios Unionize with the WGAE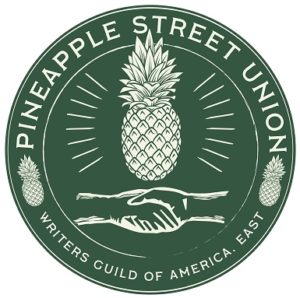 NEW YORK, NY (October 4, 2022) – The writers, producers, editors, engineers, and other storytellers at Pineapple Street Studios, the popular podcast network owned by Audacy, unionized with the Writers Guild of America, East (WGAE) for the purpose of collective bargaining. Of the 40-member bargaining unit, 98% signed union cards and called on management to voluntarily recognize the union without delay or division. 
Pineapple Street Studios produces hit podcasts like "Will Be Wild," "The Catch and Kill Podcast with Ronan Farrow," "And Just Like That… The Writers Room," "Missing Richard Simmons," "Stay Tuned with Preet," "Wind of Change," "Behind the Scenes: Stranger Things," and "Still Processing."
In a "Why We're Organizing" letter to management, the Pineapple Street Union wrote:
We – the producers, editors, engineers, and staff of Pineapple Street Studios – are unionizing with the Writers Guild of America, East. We are the people who make Pineapple's podcasts: shows that regularly win awards, top charts, and generate revenue and partnerships for our parent company, Audacy. More importantly, we make shows that entertain, inform, and move millions of people every day. 
We are so proud of what we make together here at Pineapple. In 2019, the studio was acquired by Audacy, the second-largest private radio company in America, for a reported $18 million. Audacy touts podcasting and digital as the future of the business, its largest growth sector, and the key to its continued success – all while making business decisions that harm the employees who make this future possible. These decisions have included pandemic-related pay cuts without restitution; a lack of protections around potential economic downturn; and an inability to offer appropriate cost-of-living increases. All this despite increased production during the pandemic. We are not seeing the fruits of our labor. 
The last two years have brought into sharp focus the urgent need for a fairer and more equitable workplace. The efforts of Pineapple's Reorganization Committee, Equity Team, and many of our colleagues have led to progress on issues of race, privilege, and inequity, but there have been no guarantees that their suggestions will be consistently implemented. Through collective bargaining we can ensure that the needs of our most vulnerable coworkers come first. 
One of the most rewarding aspects of organizing has been creating a space to speak openly about our needs and desires as workers. In those conversations, several themes have emerged. We look forward to discussing these core principles at the bargaining table: 
Protections and Benefits – pay equity and transparency, severance and leave policies, improved health insurance, remote work security, IP rights, assurances for interns and contractors 
Accountability – increased transparency and pathways to ensure implementation of needed changes
Consistency – guardrails against favoritism and guarantees that policies will apply to all employees equally 

Unity – democratic systems and increased avenues for collective decision making 
Over the past several months, we've come to understand our union as both an extension of the collaborative work we already do, and a way to continue that work. To that end, we are seeking a bargaining unit that will be inclusive of roles across the company. Every one of our colleagues does creative work that is integral to the success of our shows, and all deserve equal representation under one union. 
We are excited to stand alongside our fellow workers: in Audacy's other unionized shops, (WCBS, WBBM, KNX) in podcasting (Gimlet, iHeart, Vox, NPR, WNYC, Marketplace) and in media more broadly. We are inspired by recent labor victories at Amazon, Starbucks, and beyond. Today, we add our voices to the ongoing fight for safe, equitable, and just workplaces for all. We hope that, through voluntary recognition of our unit, Pineapple leadership will demonstrate their support of this effort, too.
In addition to Pineapple Street Studios, the WGAE represents workers at podcast production companies Gimlet Media, the iHeart Podcast Network, Parcast, and the Ringer. The Guild represents 7,000 workers in film, television, news, podcasts, and online media.
ABOUT THE WRITERS GUILD OF AMERICA, EAST
The Writers Guild of America, East, AFL-CIO (WGAE) is a labor union representing writers in film, television, broadcast and streaming news, podcasts, and online media. The Guild negotiates and administers contracts that protect the creative and economic rights of its members; conducts programs, seminars and events on issues of interest to writers; and presents writers' views to various bodies of government. For more information on the Writers Guild of America, East, visit wgaeast.org.
###
Back to top