Senator Al Franken to Receive WGAE's Evelyn F. Burkey Award at 2016 Writers Guild Awards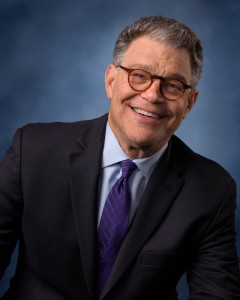 NEW YORK, NY (December 14, 2015) – The Writers Guild of America, East today announced that Senator Al Franken will receive the Evelyn F. Burkey Award at the 68th annual Writers Guild Awards in New York City on February 13, 2016. The Burkey Award recognizes a person or organization whose contributions have brought honor and dignity to writers.
Before becoming the honorable U.S. Senator from Minnesota, Franken spent 37 years as a comedy writer, author, and radio talk show host and has taken part in seven USO tours.
A Writers Guild of America, East member since 1975, Franken began his television career as one of the original writers on SATURDAY NIGHT LIVE. For the better part of two decades, Franken wrote and performed on the venerable sketch program, earning five Emmy Awards and two Writers Guild Awards.
In 1986, he co-wrote the screenplay for ONE MORE SATURDAY NIGHT with the late, great Tom Davis. In 1995, Franken brought his beloved SNL character Stuart Smalley to the big screen in the cult classic STUART SAVES HIS FAMILY.
His political sensibilities, always embedded in his humor, were front and center when he hosted and wrote for INDECISION '92, Comedy Central's first foray into political comedy. He would co-create and star in LATELINE, a satire of evening news programs that featured cameos from political leaders like William F. Buckley, Michael Dukakis and Ralph Nader.
After 9/11, Franken became one of the most notable political commentators and satirists challenging the Republican noise machine's march towards war in Iraq. He wrote four New York Times bestselling books, including Lies and the Lying Liars Who Tell Them: A Fair and Balanced Look at the Right, which the Fox News Channel unsuccessfully tried to block from publication. When the talk radio network Air America launched nationwide in 2004, Franken hosted its flagship program, The O'Franken Factor, later renamed The Al Franken Show.
In 2008, Franken ran and was elected to the U.S. Senate seat once held by Paul Wellstone. He was re-elected in 2014. In the Senate, he has been a vocal advocate for labor unions and progressive values.
In 2012, Senator Franken convened a panel on Capitol Hill to address the unfair working conditions facing nonfiction/"reality" television writer-producers in a push to modernize federal labor laws. A stalwart supporter of an open internet, in 2015 he reintroduced the landmark legislation to protect net neutrality and keep access to the Internet equal for consumers, content creators and businesses across the country. Senator Franken has routinely challenged media consolidation and was a leading voice against the merger of Comcast and Time Warner.
"As a comedy writer, performer, radio host, published author and now, second-term United States senator, Al Franken epitomizes all that a recipient of the Evelyn F. Burkey Award should be," said Michael Winship, President of the Writers Guild of America, East. "As a writer, his sharp wit and acute insight have pierced the pettifoggery of American politics. And as an elected official he has worked hard to defend and protect the rights of the creative community against the encroachments of multimedia multinationals that would squelch our independence and artistic license. "
The award was established in 1978 to honor Evelyn F. Burkey, who helped create the Writers Guild of America, East and served as its executive director until her retirement in 1972. Past recipients of the Burkey Award include Norman Lear, James Schamus, Edward Albee, Walter Bernstein, Joan Didion, Martin Scorsese, Sidney Lumet, Arthur Miller, Joan Ganz Cooney and Walter Cronkite.
The Writers Guild Awards honor outstanding writing in film, television, new media, videogames, news, radio, promotional, and graphic animation categories. The awards will be presented at simultaneous ceremonies on Saturday, February 13, 2016, in New York City at the Edison Ballroom and in Los Angeles at the Hyatt Regency Century Plaza.
For media inquiries about the 2016 Writers Guild Awards New York show, please contact Jason Gordon in the WGAE Communications Department at (212) 767-7809 or email: jgordon@wgaeast.org.
For media inquiries about the 2016 Writers Guild Awards Los Angeles show, please contact Gregg Mitchell in the WGAW Communications Department at: (323) 782-4651 or email: gmitchell@wga.org.
The Writers Guild of America, East (WGAE) and Writers Guild of America, West (WGAW) are labor unions representing writers in motion pictures, television, cable, digital media, and broadcast news. The Guilds negotiate and administer contracts that protect the creative and economic rights of their members; conduct programs, seminars, and events on issues of interest to writers; and present writers' views to various bodies of government. For more information on the Writers Guild of America, East, visit www.wgaeast.org. For more information on the Writers Guild of America, West, visit www.wga.org.
# # #
Back to top