Slate To Unionize with WGAE; Call For Voluntary Recognition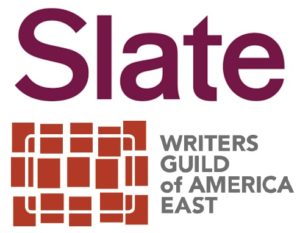 NEW YORK, NY (March 16, 2017) – The editorial staff at Slate, a pioneering digital news publication, today announced plans to unionize with the Writers Guild of America, East, AFL-CIO (WGAE). Over 90 percent of Slate's editorial staff have signed cards declaring the Writers Guild of America, East as their representative in collective bargaining.
"Slate's editorial staff joins a labor movement that has proven to be the most effective way for creative professionals to have a seat at the table and build sustainable careers in the billion-dollar digital media industry," said Lowell Peterson, Executive Director of the Writers Guild of America, East. "We call on Slate's management to voluntary recognize their employees' decision to seek workplace protections and benefits that can can only be ensured by a collective bargaining agreement."
The Slate Unionizing Committee issued the following statement:
Slate's editorial staff has decided to unionize with Writers Guild of America East. We are delighted to announce this development, and given that 90 percent of eligible staff have signed cards affirming their commitment to the union after considerable discussion, we are confident this is the right step forward for us. We're proud to work for Slate, and we feel that unionizing will help us ensure that it is the best possible place to work. We're particularly excited about unionizing as a way for us to put our progressive values into action. We call upon Slate's management, as well as the Graham Holdings Company, to voluntarily recognize the Guild as our collective-bargaining representative.
Slate has decided to unionize because we believe collectively creating a contract that ensures critical workers' rights for all employees, to be applied universally across the staff, will help create a more fair and stable workplace. Digital media is an industry in constant flux, and given Slate's recent growth, we feel that now is the time to solidify certain protections and rights that will not only ensure that our workers are fairly compensated, but will help to create better industry standards and make Slate more competitive in the field.
More specifically, there have been a few key issues that have brought us together and helped us decide to organize. This list is by no means exhaustive, but it should help to illuminate why we believe now is the right time to begin this process, and what we hope to achieve.
Compensation and Benefits: Management took a step in the right direction this year by creating respectable salary floors for different positions. We hope to formalize these floors in our contract, while guaranteeing a cost-of-living adjustment for all staffers each year. We also hope to make bonuses clear and consistent. To ensure that employees can build healthy and sustainable careers at Slate, we believe we have a right to be involved in discussions and decisions that affect our benefits, and to clarify policies around health care, paid leave, parental leave, and book leaves. We believe that having a seat at the table will result in more security and fairness among workers.
Termination, Disciplinary Actions, and Severance: We work in a volatile industry, and we want to ensure that we have fair and appropriate protections and processes in place if layoffs are to occur again. We seek to establish transparent standards and procedures around discipline and termination that will ensure that all workers are treated equally and respectfully. Our contract will aim to set clearer standards to govern the termination process, as well as to ensure a severance package that guarantees a minimum and adjusts that amount in accordance with time served at Slate.
Diversity: We feel strongly that the best journalistic product is created by staffs that are representative. We have a great deal of work to do on that end at Slate, and we believe that unionizing will help us create standards for increasing diversity among the Slate editorial staff. We hope to create a mechanism that will hold management accountable to those goals, and we believe that formalizing a commitment to an improved and more inclusive hiring process will help us build a better magazine and live up to our principles.   
Finally, we appreciate and understand that flexibility is essential to the success of our company and our site. We believe that as employees, we are equally invested in Slate's health, success, and longevity. We feel strongly that we can create a contract that ensures that management is able to continue its work in making the site the strongest it can be, but one that also offers us essential protections while doing so. Ultimately, this contract will allow our employees to feel appropriately protected and compensated for our work, which will allow us to create the best product possible. We're excited to gain a seat at the table and look forward to working together.
ABOUT WRITERS GUILD OF AMERICA, EAST
The Writers Guild of America, East, AFL-CIO (WGAE) is a labor union representing writers in motion pictures, television, cable, digital media and broadcast news. The Guild negotiates and administers contracts that protect the creative and economic rights of its members; conducts programs, seminars and events on issues of interest to writers; and presents writers' views to various bodies of government. For more information on the Writers Guild of America, East, visit wgaeast.org.
###
Back to top