Tina Fey, Michael Schur, Amber Ruffin and Adam McKay Join Nearly 1,600 WGA Members Urging MSNBC Staff to "Vote YES!"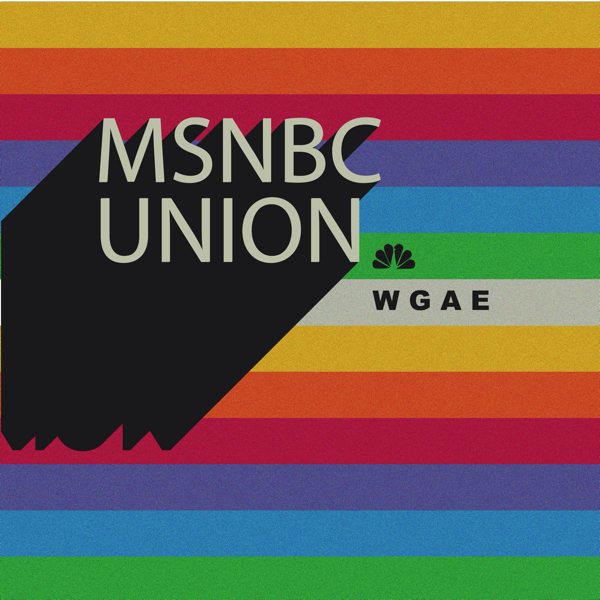 NEW YORK and LOS ANGELES (July 20, 2021) — Tina Fey, Michael Schur, Amber Ruffin, and Adam McKay are among the nearly 1,600 Writers Guild members who signed a petition urging MSNBC newsroom employees to "Vote Union YES!"
The Writers Guild of America, East (WGAE) reached agreement with MSNBC, with the help of the National Labor Relations Board (NLRB), for a 100% mail-in ballot election to cover MSNBC's approximately 300 member bargaining unit, which includes writers, producers, booking producers, and other editorial staff at every program airing on MSNBC and The Choice on Peacock. The secret ballot election will be administered by the NLRB with ballots being mailed on Tuesday, July 20, and due back by Tuesday, August 17.
The petition (PDF) reads:
As writers of film and television and members of the Writers Guild of America, East and Writers Guild of America West, we understand the critical importance of a union contract. We are proud to stand in support of the editorial staff at MSNBC who have chosen to organize with the Writers Guild of America, East. We welcome you to the Guild and the labor movement. We encourage everyone to vote YES in the upcoming election so you can get to the bargaining table to have a say in your future.
We work in scripted television and film, including many projects produced by NBC Universal. Through our union membership we have been able to negotiate fair compensation, excellent benefits, and basic fairness at work—all of which are enshrined in our union contract. We are ready to support you in your effort to do the same. We're all in this together.
Vote Union YES!
The petition is signed by NBC and Peacock series creators and showrunners Warren Leight and Julie Martin (LAW & ORDER: SPECIAL VICTIMS UNIT), Tina Fey and Robert Carlock (MR. MAYOR; 30 ROCK), Mike Shoemaker (LATE NIGHT WITH SETH MEYERS), Amber Ruffin and Jenny Hagel (THE AMBER RUFFIN SHOW), and Michael Schur (RUTHERFORD FALLS; PARKS & RECREATION), as well as writers for BROOKLYN NINE-NINE, COMMUNITY, SATURDAY NIGHT LIVE, SUPERSTORE, THE TONIGHT SHOW STARRING JIMMY FALLON, THIS IS US, WEAKEST LINK, and ZOEY'S EXTRAORDINARY PLAYLIST, among many others.
Additional signers include Adam McKay (VICE), Alan Ball (SIX FEET UNDER), Amy Schumer (TRAINWRECK), Scott Z. Burns (CONTAGION), Andrew Bergman (FLETCH), Beau Willimon (HOUSE OF CARDS), Cord Jefferson (WATCHMEN), David A. Goodman (FAMILY GUY), David Axelrod (NOVA), David Mandel (VEEP), Diana Son (GENIUS: ARETHA), Franchesca Ramsey (YEARLY DEPARTED), Adam Conover (ADAM RUINS EVERYTHING), George Pelecanos (THE DEUCE), Glen Mazzara (THE WALKING DEAD), Jessie Nelson (I AM SAM), Norman Steinberg (MY FAVORITE YEAR), Julie Rottenberg (AND JUST LIKE THAT), Kevin Wade (BLUE BLOODS), John Sayles (PASSION FISH), Lewis Black (THE DAILY SHOW), Mary Harron (I SHOT ANDY WARHOL), Mathew Weiner (MAD MEN), Adam Brooks (MOZART IN THE JUNGLE), Michelle King (THE GOOD FIGHT), Neil Cuthbert (HOCUS POCUS), Neil Gaiman (AMERICAN GODS), Nelson George (THE GET DOWN), Robert Towne (CHINATOWN), Ruben Santiago-Hudson (MA RAINEY'S BLACK BOTTOM), Aparna Nancherla (MYTHIC QUEST), Shari Springer Berman (AMERICAN SPLENDOR), Stephen Schiff (THE AMERICANS), Terry George (HOTEL RWANDA), The Kid Mero (DESUS & MERO), Tom Fontana (CITY ON A HILL), Tony Kushner (ANGELS IN AMERICA), Adele Lim (CRAZY RICH ASIANS), Al Jean (THE SIMPSONS) and Winnie Holzman (MY SO-CALLED LIFE).
Last month, an overwhelming majority of MSNBC newsroom employees signed a public letter in support of the union. The MSNBC Union has also garnered support on Twitter from Senator Cory Booker, Brooklyn Borough President Eric Adams, Nikole Hannah-Jones, Rachel Maddow, Mehdi Hasan, Chris Hayes, Joy Reid, Julián Castro, Jonathan Capehart, Maya Wiley, and Ali Velshi.
The Writers Guild of America, East represents nearly 7,000 writers in film, television, news (broadcast and digital), and podcasts. In addition to MSNBC, the WGAE represents newsrooms at 1010 WINS, ABC News, Bustle Digital Group, CBS News, CBSN, Chalkbeat, Committee to Protect Journalists, Entercom (WCBS-AM, WBBM-AM, KNX-AM), Fast Company, Fox 5 WNYW-TV, FT Specialist, Future Plc, Gizmodo Media Group, Hearst Magazines, HuffPost, Inc., The Intercept, Jewish Currents, MTV News, NowThis, Onion Inc., Refinery29, Salon, Slate, Talking Points Memo, Thirteen Productions (Thirteen/WNET), Thrillist, VICE, Vox Media and WBBM-CBS 2 News.
ABOUT WRITERS GUILD OF AMERICA, EAST
The Writers Guild of America, East, AFL-CIO (WGAE) is a labor union representing writers in film, television, news and new media. The Guild negotiates and administers contracts that protect the creative and economic rights of its members; conducts programs, seminars and events on issues of interest to writers; and presents writers' views to various bodies of government. For more information on the Writers Guild of America, East, visit wgaeast.org.
###
Back to top