VICE and Writers Guild of America, East Reach Contract Agreement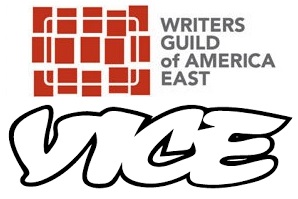 NEW YORK, NY (APRIL 15, 2016) – The Writers Guild of America, East (WGAE) and VICE Media are pleased to announce they have reached tentative agreement on a first-ever collective bargaining agreement.
The VICE editorial staff union, which includes approximately 70 employees represented by the WGAE, will vote on the tentative agreement early next week.
The agreement includes an economic package worth 29% over three years, protections on the current health insurance offered employees, protections for employees to engage in non-Vice work, a policy providing for compensatory time off when employees work on weekends or other scheduled days off, guaranteed severance pay, and a commitment to meet on a monthly basis to discuss workplace issues.
"We are deeply proud to announce the major gains made in this agreement, and excited to bring a contract to our members for a vote," said Matt Taylor, crime editor at VICE.com and a leader of the bargaining committee. "Through hard work and solidarity, we reached a deal that includes unprecedented economic changes, as well as provisions that are specific to today's creative workplaces in the digital space. This agreement acknowledges the vital role that editorial plays in VICE's success and growth, and we look forward to working together to make sure VICE remains the international media powerhouse it's become. We also believe this contract demonstrates the enduring value of organized labor in journalism and the broader economy."
"This is great news: Both sides have come together and struck a deal that continues to propel VICE forward as media's most innovative and entrepreneurial workplace," said Alyssa Mastromonaco, COO of VICE. "In addition to our existing extensive package of benefits, this agreement is just the latest action VICE has taken to continue to attract the best creative minds in the world, while protecting the creative spirit that defines this company."
"This agreement is a testament to the commitment of the VICE employees to improve their work lives, and to the hard work of the bargaining committee," said Lowell Peterson, Executive Director of the Writers Guild of America, East.  "VICE is on the forefront of digital media's transformation into a place where creative professionals can build sustainable careers. Collective bargaining empowers writers, editors, and other content creators to make their voices heard.  We are very pleased that VICE management listened closely to employees' concerns and addressed those concerns in a meaningful way."
# # #
Back to top