VICE Employees Ratify Writers Guild of America, East Contract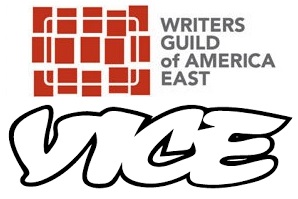 NEW YORK, NY (APRIL 21, 2016) – Writers Guild of America, East-represented editorial employees at VICE have ratified the union's tentative agreement, announced last week, by an overwhelming margin. 75 out of 80 members voted and 73 of them were yes.
In addition to very significant pay increases, the agreement includes provisions on severance pay, preserving health benefits, editorial independence, compensatory time, use and reuse of employee-created content, and an ongoing process for addresses issues such as diversity, workload, staffing, and the intersection between editorial and business.
Highlights of the agreement include:
Significant pay increases. Guild-represented employees will get an increase of at least 14%, retroactive to January 1.  The minimum increase is $8,000 a year for full-time employees, which in some cases amounts to nearly 20% pay increase. Minimum pay will be set at $45,000/year.  There will be additional pay increases of 5% in the second year of the contract and 5% in the third year, and employees will remain eligible for additional individual increases.
Company contributions to the 401(k) plan. VICE will match employees' contributions on a dollar-for-dollar basis up to 3% of pay.
There will be no reductions in health benefits at all this year, and a negotiation if the company contemplates any changes in the future.
Intellectual property. Language protecting employees' right to do non-VICE work and governing reuse of employees' work for the company.
Editorial independence. VICE has formalized a written commitment to editorial independence.
Comp time. The contract includes compensatory time off for work on weekends and other scheduled days off.
Severance pay. For the first time, unionized employees are guaranteed severance pay on termination (except for gross misconduct).
Monthly union-management meetings. VICE and the union will meet monthly to discuss diversity, work load, business/editorial issues, and more.
"This groundbreaking agreement demonstrates the power of collective bargaining," said Lowell Peterson, Executive Director of the Writers Guild of America, East.  "It demonstrates what digital media creators can achieve by working together to identify and voice their common concerns, and to back it up by organizing and taking action.  The VICE Union bargaining committee was engaged, diligent and smart, and we are pleased that the company paid attention to the important issues the committee brought to the table."
ABOUT WRITERS GUILD OF AMERICA, EAST
The Writers Guild of America, East, AFL-CIO (WGAE) is a labor union representing writers in motion pictures, television, cable, digital media and broadcast news. The Guild negotiates and administers contracts that protect the creative and economic rights of its members; conducts programs, seminars and events on issues of interest to writers; and presents writers' views to various bodies of government. For more information on the Writers Guild of America, East, visit wgaeast.org.
Back to top