Vice's Editorial Staff Unionizes With WGAE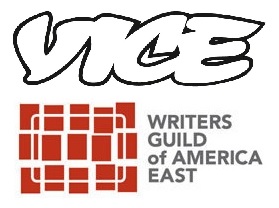 NEW YORK, NY (AUGUST 7. 2015) – The editorial staff of VICE Media's digital operations are now represented by the Writers Guild of America, East (WGAE).  The staff sent a letter to Founder and CEO Shane Smith and his executives requesting that the company recognize their decision to unionize, and management agreed without hesitation.  The parties intend to begin the process of negotiating a collective bargaining agreement shortly.
In their letter to executives, the employees wrote, "We are proud of the work we do here at VICE.  We love being part of a company that is changing media and having an impact on the world.  We believe that a union is a logical step for the long-term legacy of the company."
"The men and women who write, edit, and create content for Vice craft some of the most compelling stories available in the digital realm. They are finding innovative ways to reach people, to inform, to entertain and to engage," said Lowell Peterson, Executive Director of the Writers Guild of America, East. "The WGAE is excited to work with these creative professionals, who want and deserve a seat at the table."
ABOUT WRITERS GUILD OF AMERICA, EAST
The Writers Guild of America, East, AFL-CIO (WGAE) is a labor union representing writers in motion pictures, television, cable, digital media and broadcast news. The Guild negotiates and administers contracts that protect the creative and economic rights of its members; conducts programs, seminars and events on issues of interest to writers; and presents writers' views to various bodies of government. For more information on the Writers Guild of America, East, visit wgaeast.org.
###
Back to top