WGA East and Talking Points Memo Reach Deal on New Contract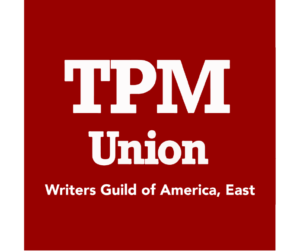 NEW YORK, NY (February 7, 2023) – Writers Guild of America, East (WGAE) members at Talking Points Memo, one of the longest-running political news sites, ratified a new collective bargaining agreement with management. The contract was unanimously ratified by the six-member bargaining unit.
The new three-year contract will see the minimum salary go from $52,000 up to $65,000 in January 2025. Employees making below $75,000 will receive a 3.5% salary increase in each year of the contract; employees making up to $100,000 will receive 3.25% annual salary increases; and employees making over $100,000 will receive 3% annual salary increases.
The Company also agreed to increase severance minimums from six weeks to eight weeks, with two additional weeks per-year after four years of employment. The severance cap has been increased from 12 weeks to 18 weeks. In addition, parental leave increased from 10 weeks to 16 weeks.
The contract also features new comp time language, more vacation days, additional money towards professional development, an increased cell phone stipend, improved health and safety standards, commitments to diversity, and non-discrimination protections, among other gains.
In a statement, the TPM bargaining unit said, "We're thrilled to have won the fight for a contract that protects and improves working standards at TPM. After 8 months of bargaining, we have won key concessions from management that include industry-standard salary floors, a comp time policy that meets the needs of our unit, and annual increases that ensure members' pay will keep pace with inflation. This contract would not have been possible without the solidarity and teamwork of the entire TPM unit. We're proud of this contract, our unit, and WGAE, which helped to secure the provisions in this contract that all of our members deserve."
Lowell Peterson, Executive Director of the Writers Guild of America, East, said, "The Guild's new collective bargaining agreement with Talking Points Memo raises the bar for Online Media workers, setting standards that keep up with cost-of-living expenses and the state of the industry. It is rewarding, especially for Guild members working at Talking Points Memo, to see a Company live up to the values it espouses online."
In addition to Talking Points Media, the Writers Guild of America, East's Online Media Sector includes BDG, Chalkbeat, Committee to Protect Journalists, Fast Company, FT Specialist, Future PLC, Gizmodo Media Group, Hearst Magazines, Huffpost, Inc., Jewish Currents, MTV News, NowThis, Onion Inc., Refinery29, Salon, Slate, The Dodo, The Intercept, Thrillist, VICE, and Vox Media.
ABOUT THE WRITERS GUILD OF AMERICA, EAST
The Writers Guild of America, East, AFL-CIO (WGAE) is a labor union representing writers in film, television, broadcast and streaming news, podcasts, and online media. The Guild negotiates and administers contracts that protect the creative and economic rights of its members; conducts programs, seminars and events on issues of interest to writers; and presents writers' views to various bodies of government. For more information on the Writers Guild of America, East, visit wgaeast.org.
###
Back to top