Tuesday February 14, 2023
WGA East Files Unfair Labor Practice Against BDG Over Recent Layoffs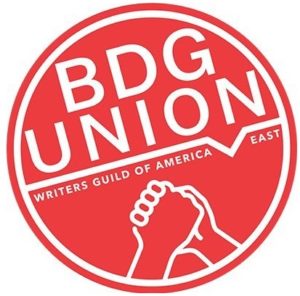 NEW YORK, NY (February 14, 2023) – A group of Writers Guild of America, East (WGAE) members at BDG livestreamed themselves on Twitter delivering CEO Bryan Goldberg an unusual Valentine – an Unfair Labor Practice (ULP) charge that had been filed hours earlier with the National Labor Relations Board (NLRB).
Today's action comes after BDG laid off a significant number of unit members and closed Gawker. The Guild filed the ULP charges following two concerning actions taken by BDG related to the layoffs.
The first claim in the ULP states that when BDG laid off 39 unit members, the layoffs unjustly included three prominent and active union members. These three unit members did not squarely fit into the categories BDG laid out to the WGAE representatives – or in the Company's public messaging – regarding the layoffs. However, all three were regularly engaged in protected, concerted activity on behalf of the union of which management was well aware. Those three persons are: Collette Reitz, former editor at Elite Daily, Emma Sarran Webster, former editor at Mic, and Sophie Worm, former video editor at Some Spider. Moreover, the Company did not provide any rationale for their decision to layoff three active union supporters.
The Union contends that the layoffs of these three persons was retaliatory and meant to intimidate others in the BDG unit from being active participants in union activities. 
The second claim relates to activities BDG took on Monday, February 6, 2023, after unit members took concerted action. At 9:00 a.m. Eastern Time, members of the unit changed their work Slack avatars to the BDG Union logo, changed their names on Slack to "No Layoffs Fair Contract Now" and simultaneously dropped in the BDG's general Slack, and their brand Slacks, the message "No Layoffs! Fair Contract Now!"
Shortly thereafter the action, unit members were blocked by BDG from posting in the Company's general Slack and their messages were deleted, one-by-one, from that Slack. Particularly troubling, members from the Inverse brand, were locked out of their brand Slack, locking them out from doing their work.
The Union asserts that the Company's action in this case was retaliatory and meant to further intimidate unit members at BDG from participating in union activities and in violation of federal labor law.
Following the action, the Guild members at BDG said, "The BDG Union condemns management's actions following last week's Slack pencil drop action. After we exercised our legal right to call for a fair contract, management kicked the Inverse team off of Slack — preventing the team from working for part of the morning. Management also has banned employees indefinitely from posting in the general BDG Slack, where we have previously sent messages demanding a contract, in addition to deleting all evidence of our protest. Today, we are delivering Unfair Labor Practice charges, specifically relating to illegal retaliation, to the office of BDG CEO Bryan Goldberg while donning union shirts and Napoleon hats — since Goldberg was happy to spend over $1 million on a hat but refuses to bargain fairly with the employees that create all of the revenue-generating content. We hope that our special Valentine's card spurs management to proceed with fair bargaining."
Lowell Peterson, Executive Director of the Writers Guild of America, East, said "Our goal is to negotiate a fair contract, to ensure that the people we represent at BDG have a voice on the job and the protections they need.  We cannot, and will not, stand by while BDG undermines the process by committing Unfair Labor Practices."
ABOUT THE WRITERS GUILD OF AMERICA, EAST
The Writers Guild of America, East, AFL-CIO (WGAE) is a labor union representing writers in film, television, news, podcasts, and online media. The Guild negotiates and administers contracts that protect the creative and economic rights of its members; conducts programs, seminars and events on issues of interest to writers; and presents writers' views to various bodies of government. For more information on the Writers Guild of America, East, visit wgaeast.org.
###
Back to top