Wednesday August 23, 2023
WGA East Members at FT Specialist Ratify First Union Contract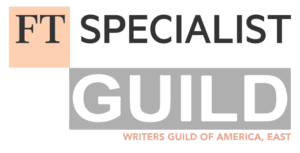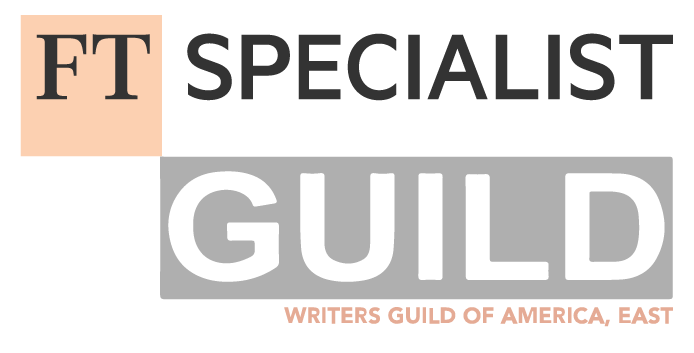 NEW YORK, NY (August 23, 2023) – Writers Guild of America East (WGAE) members at FT Specialist, an editorial division of Financial Times, overwhelmingly ratified a groundbreaking first collective bargaining agreement.
After more than two years of negotiations, the 45-member bargaining unit at FT Specialist won a fair three-year agreement that includes a first of its kind Artificial Intelligence (A.I.) clause that says "the Company shall discuss in advance the introduction of any new technology" and "the Guild shall have the right to bargain expeditiously over the effects of the changes."
The contract includes a new minimum starting salary of $65,000. In addition, the agreement guarantees minimum annual increases up to 8.25% in the first year of the contract for employees making up to $70,000, and all employees will receive 3.25% minimum annual raises in the second year of the contract and 3% in the third year of the contract.
Additional highlights from the contract include:
A Diversity Committee budget of $10,000 and the Committee can set annual goals regarding hiring and recruitment of candidates from diverse backgrounds, and the Company's satisfaction of those goals can be subject to grievance;
8 weeks minimum of severance for people with less than one year of service, 12 weeks minimum for people with over one year of service; and for each year of service after one year, an additional two weeks is added to the severance;
Agreement that the Company would not use mandatory arbitration or post-employment non-competes;
Agreement that editorial decisions can only be made by editorial management and that clients cannot dictate publishing decisions, and employees not required to work on content over which clients have final editorial say.
15 days of vacation for people who have worked for the company for under 3 years, and 25 days for people who have worked at the company for over 5 years;
Family leave of 14 weeks for primary caregivers and 12 weeks for secondary caregivers;
Expansion of sick days to 10 available sick days;
Successor agreement;
Union Security;
Just Cause.
The FT Specialist bargaining committee, said "We are so happy to say that we have ratified our first contract, which gave everyone an immediate raise, set parameters for the implementation of new technology, including AI, and contains some of the strongest just cause language in the industry. Our unit ratified the contract with an overwhelming majority of votes – an emblem of the solidarity that made our biggest wins possible. We are proud to be part of a fighting union and excited for our new Diversity and Labor Management committees to begin work.
The unit added, "Our win belongs to every member of our unit. It also belongs to our Financial Times coworkers in the United Kingdom, who are represented by the National Union of Journalists, and who offered us valuable insights and encouragement throughout our bargaining process; and by our coworkers in the US office of the Financial Times, who are represented by the NewsGuild and are undergoing their own contract negotiations. The solidarity between our three unions is strong, international, and coordinated, and we are excited to contribute to improving our industry together by protecting the journalists that make it possible."
In addition to FT Specialist, the WGA East's Online Media Sector includes BDG, Chalkbeat, Committee to Protect Journalists, CNET, Fast Company, Future PLC, Gizmodo Media Group, Hearst Magazines, HuffPost, Inc., Jewish Currents, NowThis, Onion Inc., Refinery29, Salon, Slate, Talking Points Media, The Dodo, The Intercept, Thrillist, VICE, and Vox Media. The Guild represents 7,000 workers in film, television, news, podcasts, and online media.
ABOUT THE WRITERS GUILD OF AMERICA, EAST
The Writers Guild of America, East, AFL-CIO (WGAE) is a labor union representing writers in film, television, news, podcasts, and online media. The Guild negotiates and administers contracts that protect the creative and economic rights of its members; conducts programs, seminars and events on issues of interest to writers; and presents writers' views to various bodies of government. For more information on the Writers Guild of America, East, visit wgaeast.org.
###
Back to top