WGA East Wins Recognition at CNET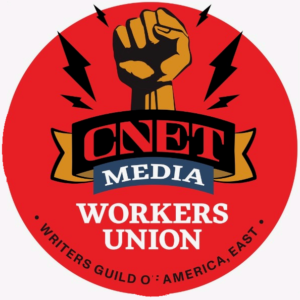 NEW YORK, NY (June 16, 2023) – CNET's writers, editors, video producers, designers and other content creators won recognition following an online election to be represented by the Writers Guild of America, East (WGAE) for the purpose of collective bargaining.
The vote was held Friday and agreed to by the Writers Guild of America, East (WGAE) and CNET parent company Red Ventures. The online election was held by VoteNet, a third party voting platform, with Red Ventures agreeing to stay neutral toward the CNET media workers' unionization effort.
The election was decided by a simple majority, in which voter turnout numbers will remain confidential. The CMWU will be releasing its internal voting figures on its Twitter account after the election is certified.
CNET'S 100-member bargaining unit is the first media outlet to unionize at Red Ventures.
Lowell Peterson, Executive Director of the Writers Guild of America, East (WGAE), said, "We welcome CNET content employees to the Union. They are seeking to secure industry-standard job protections and benefits for its staff, as well as transparency and accountability from management around key issues that affect workloads, bylines and careers. We congratulate these hard-working employees on their decision to join together to bargain a fair first union contract."
In addition to CNET, the WGAE's Online Media Sector includes BDG, Chalkbeat, Committee to Protect Journalists, Fast Company, FT Specialist, Future PLC, Gizmodo Media Group, Hearst Magazines, HuffPost, Inc., Jewish Currents, NowThis, Onion Inc., Refinery29, Salon, Slate, Talking Points Media, The Dodo, The Intercept, Thrillist, VICE, and Vox Media. The Guild represents 7,000 workers in film, television, news, podcasts, and online media.
ABOUT THE WRITERS GUILD OF AMERICA, EAST
The Writers Guild of America, East, AFL-CIO (WGAE) is a labor union representing writers in film, television, news, podcasts, and online media. The Guild negotiates and administers contracts that protect the creative and economic rights of its members; conducts programs, seminars and events on issues of interest to writers; and presents writers' views to various bodies of government. For more information on the Writers Guild of America, East, visit wgaeast.org.
###
Back to top