Writers Guild Awards: Vote for Screenplays & TV/New Media Series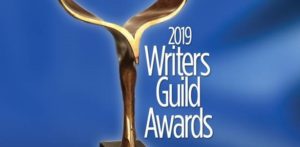 The FINAL voting period to determine the winners for the 2019 Writers Guild Awards opens as of 1pm today for the following categories:
ORIGINAL SCREENPLAY
ADAPTED SCREENPLAY
COMEDY SERIES
DRAMATIC SERIES
NEW SERIES
Vote online at: https://eballot4.votenet.com/wga
Your username is your last name and your password is your 5-digit member ID number.
The voting deadline is MONDAY, JANUARY 31, 2019 at 3pm ET.
If you are unable vote online, please contact Nancy Hathorne (212.767.7812) to request a paper ballot. Contact Dana Weissman (212.767.7835) for additional information.
Back to top