Writers Guild Initiative Names New Executive Director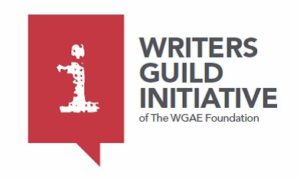 New York, NY (January 14, 2019) – The Writers Guild Initiative (WGI) has named Jenna Jackson as Executive Director.
The Writers Guild Initiative, an independent charitable foundation affiliated with the Writers Guild of America, East, is dedicated to making the art of storytelling accessible to people of all ethnic, cultural and economic backgrounds – with attention to the underserved.  The WGI promotes writing as a singular, powerful and accessible vehicle through which people in diverse circumstances can process life and self, creatively channeling their experience through the written word.
Jackson has been with the Initiative for eight years, beginning as Program Administrator. She oversees the production of the annual Writers Guild Initiative Benefit Gala and runs the WGI's many programs, including the Helen Deutsch Writing Workshops, which began in 2008 in Ohio with professional writers mentoring military veterans.  From 2010-2016, the Writing Workshops expanded though a partnership with the Wounded Warrior Project, where professional writers had the opportunity to work with wounded soldiers, caregivers of critically injured veterans, and doctors at the Landstuhl Regional Medical Center in Landstuhl, Germany suffering from compassion fatigue, giving each a supportive writing community in which to find their voice and tell their story.
While the WGI continues to work with veterans and military populations, Jackson has expanded the WGI's Writing Workshops' focus to include working with exonerated death row prisoners, documented and undocumented immigrants (Dreamers), people displaced by Hurricane Sandy, Muslim writers, inmates at Pendleton Correctional Facility in Indiana, and a group living with chronic illness, their family and caregivers in Portland, Oregon.
The WGI also has two long-running programs which connect writers and performers with schoolchildren: The Nora Ephron Book Club and Pen Friends.
Finally, the WGI, with support from the Charles and Lucille King Family Foundation and in partnership with The Black List, annually awards the Michael Collyer Memorial Fellowship in Screenwriting to a talented college student who plans to pursue a career in screenwriting.
Jackson also wrote the screenplay BENACHIN, a short film about an interracial couple experiencing their first holiday with family. She received her M.F.A. from New York University.
Richard Dresser, President of the Writers Guild Initiative, said, "I am pleased to announce that Jenna Jackson has been named Executive Director of the Writers Guild Initiative.  Jenna started with us eight years ago and has grown with the organization.  She has been instrumental in the steady expansion of our writing workshops with populations whose voices are not being heard, which include veterans, wounded warriors, caregivers, Dreamers, inmates, the chronically ill, and exonerated death row prisoners.  With her administrative acumen, her creative approach to new opportunities, and her enthusiasm for our mission, she has made herself an invaluable member of our organization.  We are lucky to have her on board as Executive Director in the coming years."
The Writers Guild Initiative will host its 6th Annual Benefit Gala on Monday, March 11, 2019. The annual benefit gala will feature an all-star cast reading work written in the Writers Guild Initiative Writing Workshops on the theme of "You Need to Hear This."  Th stories will come from this year's workshops at Pendleton Correctional Facility and organizing with United We Dream, the largest immigrant youth-led network in the country. Additional material will come from past workshops with veterans, caregivers and Muslim writers.  Tickets for the Gala are available here: https://www.writersguildinitiative.org/this-is-the-ticket-donor-form.
###
Back to top