Thursday November 16, 2023
Writers Guild of America East Wins Voluntary Recognition at Pushkin Industries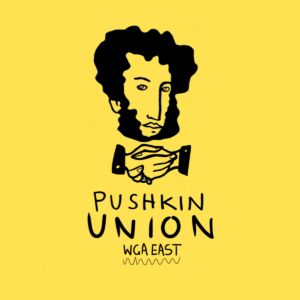 NEW YORK, NY (November 16, 2023) – Management at Pushkin Industries, the popular podcast production company co-founded by Jacob Weisberg and Malcolm Gladwell, has voluntarily recognized the Writers Guild of America East (WGAE) as the collective bargaining representatives of the staff's producers, editors, and engineers. 
A card-check conducted by an independent third-party confirmed that a majority of the bargaining unit signed cards in favor of the union. The union aims to begin negotiations with Pushkin Industries as soon as possible. Pushkin Industries produces hit podcasts like "Revisionist History," "The Happiness Lab with Dr. Laurie Santos," "Broken Record," "Against the Rules with Michael Lewis," and "What's Your Problem?" among other series. 
"We welcome the creative team at Pushkin Industries to the Writers Guild of America East," said Lisa Takeuchi Cullen, President of the WGAE. "The Guild is committed to building worker power in the growing podcasting industry. We look forward to securing workplace protections and benefits for our members at Pushkin Industries."
The Pushkin Industries organizing committee added, "We are thrilled that Pushkin Management has decided to voluntarily recognize our union, and eager to include our voices in company decision making. This year, our small but mighty unit has been impacted by three rounds of layoffs, and we believe worker feedback is critical in protecting our colleagues and building a stronger Pushkin going forward. We're grateful for the solidarity of all our coworkers, past and present, and look forward to building a fairer workplace for all."
Pushkin Industries Union can be found on Twitter at https://twitter.com/pushkinunion.
In addition to Pushkin Industries, the WGAE represents workers at podcast production companies Crooked Media, Gimlet Media, the iHeart Podcast Network, Parcast, Pineapple Street Studios, and The Ringer. The Guild represents 7,000 workers in film, television, news, podcasts, and online media.
ABOUT THE WRITERS GUILD OF AMERICA EAST
The Writers Guild of America East, AFL-CIO (WGAE) is a labor union representing writers in film, television, broadcast and streaming news, podcasts, and online media. The Guild negotiates and administers contracts that protect the creative and economic rights of its members; conducts programs, seminars and events on issues of interest to writers; and presents writers' views to various bodies of government. For more information on the Writers Guild of America East, visit wgaeast.org. 
###
Back to top