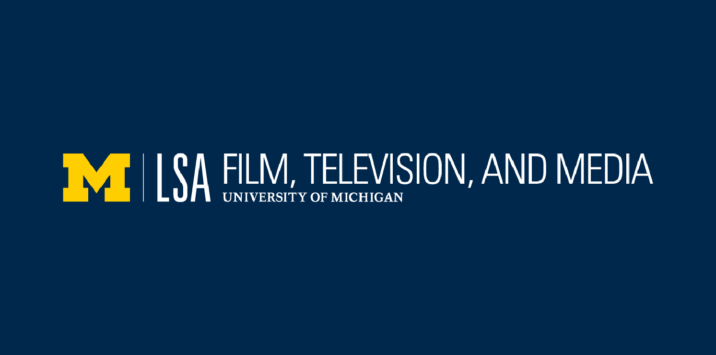 Documentary and Social Change-Open Rank Search (Assistant/Associate Professor) In Production
The University of Michigan's Department of Film, Television, and Media (FTVM) invites applications for a full-time, tenure-track production position in Documentary and Social Change to begin August 29, 2022. This is a university year, tenure track appointment and will be at the level of an Assistant Professor or Associate Professor with Tenure.
Located in the nation's largest liberal arts college, the Department of Film, Television, and Media integrates critical studies, screenwriting, and production. Our undergraduate curriculum encourages a deep dialogue between creative practice and critical studies, offering a vibrant intellectual and artistic community fostered by award winning scholars and artists.
Applicants should have a significant and active record in nonfiction film and media making as a director or director/writer—evidenced by festival and museum screenings, theatrical and online distribution, or other comparable exhibition venues. We are interested in candidates whose creative interests and pedagogies engage areas pertaining to social change, environmental justice, race and ethnicity, indigenous rights, LGBTQ+ issues, and immigration, particularly within the context of the United States. A strong background of excellence in undergraduate education is preferred.
The successful candidate will help students understand the practices, social impact and ethical conundrums of documentary filmmaking committed to social change, human rights, and activism. The candidate will take a leading role in the development of documentary filmmaking in the unit; this will involve collaborating with production and studies faculty on the crafting of a holistic curriculum for documentary production, history and theory. They will also mentor undergraduate students in their professional careers.
Conscious of the lack of diversity in both the film industry and academia, we embrace an inclusive environment and are particularly interested in receiving applications from members of under-represented groups and strongly encourage women, persons of color, and LGBTQ+ individuals to apply.
Responsibilities
Academic duties require teaching two courses per semester at the undergraduate level as well as occasional independent studies and honors projects. Candidates should be qualified to teach a range of production courses in addition to documentary filmmaking.
Required Qualifications
MFA or equivalent terminal degree in moving image production, or equivalent professional experience.
Robust and active record of documentary filmmaking as a director or writer/director, along with the promise of continued productivity.
A commitment to social justice production and teaching, and ideally demonstrable teaching excellence in higher education.
Demonstrated ability to engage with students at all skill levels and to value the diversity of the student population in their pedagogy.
How to Apply
Candidates should send a letter of application, curriculum vitae, portfolio, and three recommendations electronically to https://webapps.lsa.umich.edu/apply/FTVM . The portfolio should include an artist statement that addresses both previous and current work as well as future plans, a statement of teaching philosophy and experience; a diversity statement that discusses demonstrated commitment to diversity, equity, and inclusion through art, and/or teaching/mentoring, and/or service/engagement; and links to creative work. If available, the portfolio may also include evidence of teaching excellence and reviews of the work (if available.)
Application Deadline
For full consideration, complete applications should be submitted by September 3, 2021.
Background Screening
The University of Michigan conducts background checks on all job candidates prior to receipt of a formal offer letter and uses a third-party administrator to conduct background checks. Background checks are performed in compliance with the Fair Credit Reporting Act.
Contact Information
For questions, please contact ftvmsearch2021@umich.edu
Decision Making Process
The search committee will begin reviewing applications on Tuesday, September 7, 2021.
U-M EEO/AA Statement
The University of Michigan is an equal opportunity/affirmative action employer and is supportive of the needs of dual career couples.
Back to top