MSNBC Staff Employees Win NLRB Election to Unionize with Writers Guild of America, East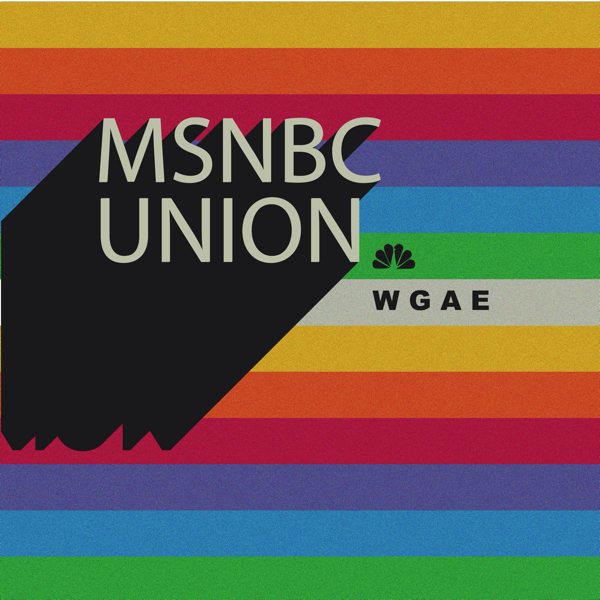 NEW YORK, NY (August 24, 2021) – The ballots are in at MSNBC, and the National Labor Relations Board (NLRB) has counted them:  141 editorial staffers at MSNBC voted to be represented by the Writers Guild of America, East (WGAE) for the purpose of collective bargaining; 58 people voted no.
The 300-member bargaining unit includes writers, producers, booking producers, and other editorial staff at every program airing on MSNBC and The Choice on Peacock.
The MSNBC Organizing Committee said, "Victory! This victory is the first of its kind in cable news and we are so proud of what we've all accomplished together. A big thank you to our fellow union members in the Writers Guild, across media, and the entire labor movement. We are also deeply appreciative of our MSNBC coworkers, hosts, regular contributors, and the elected officials who supported us along the way. We now look forward to constructive, good faith negotiations with MSNBC management to make this an even better place to work — with input from all of us. This is who we are."
Lowell Peterson, Executive Director of the Writers Guild of America, East, said, "We are so proud that MSNBC's employees voted strongly in favor of unionizing with the Writers Guild of America, East for the purpose of collective bargaining. The organizing campaign at MSNBC took over a year of intense work that saw every sector of our union, from screenwriters to digital news members, join together to deliver a resounding victory.  We look forward to getting to the bargaining table."
In July, Tina Fey, Michael Schur, Amber Ruffin, and Adam McKay were among the nearly 1,600 Writers Guild members who signed a petition urging MSNBC newsroom employees to "Vote Union YES." The MSNBC Union also garnered support on Twitter from Senator Cory Booker, Brooklyn Borough President Eric Adams, Nikole Hannah-Jones, Rachel Maddow, Mehdi Hasan, Chris Hayes, Joy Reid, Julián Castro, Jonathan Capehart, Maya Wiley, and Ali Velshi.
The Writers Guild of America, East represents nearly 7,000 writers in film, television, news (broadcast and digital), and podcasts. In addition to MSNBC, the WGAE represents newsrooms at 1010 WINS, ABC News, Bustle Digital Group, CBS News, CBSN, Chalkbeat, Committee to Protect Journalists, The Dodo, Entercom (WCBS-AM, WBBM-AM, KNX-AM), Fast Company, Fox 5 WNYW-TV, FT Specialist, Future Plc, Gizmodo Media Group, Hearst Magazines, HuffPost, Inc., The Intercept, Jewish Currents, MTV News, NowThis, Onion Inc., Refinery29, Salon, Slate, Talking Points Memo, Thirteen Productions (Thirteen/WNET), Thrillist, VICE, Vox Media and WBBM-CBS 2 News.
ABOUT WRITERS GUILD OF AMERICA, EAST
The Writers Guild of America, East, AFL-CIO (WGAE) is a labor union representing writers in film, television, news and new media. The Guild negotiates and administers contracts that protect the creative and economic rights of its members; conducts programs, seminars and events on issues of interest to writers; and presents writers' views to various bodies of government. For more information on the Writers Guild of America, East, visit wgaeast.org.
###
Back to top