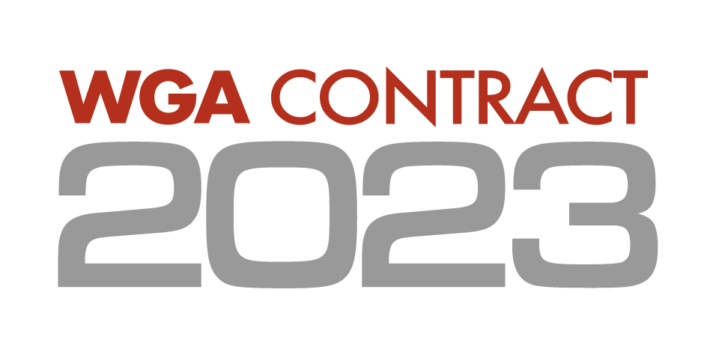 Since its formation, the Writers Guild of America, East (WGAE) has fought to improve the lives of professional writers.
Every three years, the WGA negotiates with the Alliance of Motion Picture and Television Producers (AMPTP) over the terms of the Minimum Basic Agreement (MBA), the collective bargaining agreement that covers most of the work done by WGA writers. Though each negotiation cycle is different, certain aspects of the process carry over from year to year.
This FAQ provides a general overview of the negotiations process and what to expect in 2023. Select any of the questions below to expand and view their answers.
What are the steps in the negotiations process?

The WGA's research, enforcement, and negotiating staff work continually to analyze industry trends and craft strategies to improve standards for writers. Members also express their concerns and identify priorities through communication with the WGAE Council or WGAW Board, their captains, in member committees and organizing meetings, tv/streaming show visits, and by participating in member surveys. Preparations for MBA negotiations intensifies in the months prior to the contract expiration date, which this cycle is May 1, 2023.

In general, the steps in the negotiations process are as follows:

WGA members are surveyed to help determine bargaining priorities.
The WGAE Council and WGAW Board appoint the Negotiating Committee. The officers from each guild are ex-officio members of the committee.
The Negotiating Committee, with staff support, crafts the Pattern of Demands—general objectives for negotiations. The Pattern of the Demands is approved by the Board and Council and sent to the membership for a vote.
The Negotiating Committee decides on a set of specific bargaining proposals and negotiating priorities.
The WGA holds a series of membership meetings to get feedback on the bargaining agenda.
The Negotiating Committee begins talks with the AMPTP. Given the sensitive nature of these bargaining sessions, communications with the membership may be limited at times.
If it appears an acceptable agreement can't be reached, the Negotiating Committee may recommend to the WGAE Council and WGAW Board that the membership takes a Strike Authorization Vote (SAV). If the WGAE Council and WGAW Board agree with the Negotiating Committee, they will authorize a membership vote. Additional membership meetings may take place in connection with the vote. If a majority of members vote in favor, the WGAE Council and WGAW Board, in consultation with the Negotiating Committee have the authority to call a strike after the contract expires, and there is no acceptable agreement.
Once the WGA and AMPTP come to an agreement on terms, the WGAE Council and WGAW Board decide whether to recommend the tentative agreement and send it to the membership for a Contract Ratification Vote.
Who does the WGA negotiate with?

The Alliance of Motion Picture and Television Producers (AMPTP) negotiates on behalf of all the major studios and hundreds of production companies.
Who represents the WGA at the negotiation table?

The 2023 MBA Negotiating Committee and chief negotiator, WGAW Executive Director David Young, represent the WGA in negotiations.

Members of the 2023 Negotiating Committee are:

David A. Goodman, Co-Chair
Chris Keyser, Co-Chair
John August
Angelina Burnett
Kay Cannon
Yahlin Chang
Robb Chavis
Adam Conover
Travis Donnelly
Ashley Gable
Hallie Haglund
Eric Haywood
Eric Heisserer
Greg Iwinski
Luvh Rakhe
Erica Saleh
Danielle Sanchez-Witzel
James Schamus
Tom Schulman
Mike Schur
David Shore
David Simon
Patric M. Verrone
Nicole Yorkin
What happens in negotiations?

Negotiations start with opening proposals from both sides. The WGA prepares a comprehensive proposal to address the concerns of writers and over the course of negotiations explains and defends specific proposals. The AMPTP usually proposes rollbacks, changes, or new proposals that are not favorable to writers. The back-and-forth of the negotiations covers a range of topics in a series of sessions that play out over a number of weeks. The Negotiating Committee also spends time away from the bargaining table, in caucuses discussing and deliberating next moves, or waiting for the AMPTP to respond to presentations and proposals. Both sides may amend their proposals, offer counter proposals, or drop proposals until a tentative agreement is reached or negotiations break off.
What happens if writers go on strike?

The WGA leadership may call a strike only after the membership has authorized it and the current contract has expired. If a strike is called, members are prohibited from performing covered writing services for companies that don't have an agreement with the WGA. To demonstrate unity and resolve, writers picket and engage in other collective actions that help put pressure on the AMPTP to better their offer. Negotiations can continue during a strike.

By striking and withholding their labor, writers use their leverage to secure meaningful economic gains for all union members. A strike can also be financially challenging for individual writers. Members may be eligible to receive assistance through a WGAE fund that would offer loans in the event of a strike. More specific information will be available in the event of a strike.
How can members stay informed during negotiations?

First and foremost, we encourage you to attend member meetings and hear directly from your leadership. The WGA will also communicate important info to members via email and on our (forthcoming) WGA Contract 2023 website.

If you don't already have a WGA Contract Captain we highly encourage you join a team. Your captain can help you stay informed and let you know about opportunities to engage with fellow members.

If you want to get more involved you can also volunteer to be a Contract Captain. You will engage with a team of fellow writers, help address their questions, and mobilize them in support of the bargaining agenda. Captains also meet to discuss the issues and communicate member sentiments to leadership. Captains receive leadership training and staff support.

During negotiations, the parties sometimes agree to a "media blackout,"' in which both sides agree not to discuss specifics about how negotiations are proceeding. Since member messages leak to the press, the WGA may pause member communications at times. Members will always be notified, however, when there are significant developments.

You can also email questions to Geoff Betts.
How can members make suggestions or express concerns to the Negotiating Committee?

Input from WGA members is always welcome and highly regarded. You can provide feedback by attending membership meetings, or communicating with your Contract Captain or Member Organizing Representative. You can also contact WGA leadership and staff by emailing Geoff Betts.
What else should members expect?

Already, misleading and provocative information has appeared in the press and on social media. Months before writers have collectively determined their bargaining agenda, there have been strike predictions in the trades and you may have heard rumors from executives, managers, agents, and fellow writers. These narratives—so pervasive that they've become industry conventional wisdom—seek to portray the WGA leadership as determined to strike regardless of how negotiations transpire. By painting the WGA as unreasonable, writers' proposals can be dismissed as unreasonable too.

Take rumors and "insider" commentary with a grain of salt. Consider the source and motivations of comments about WGA goals, strategies, tactics, and priorities. (Often, these comments are not sourced at all!) Even well-meaning fellow members can be misinformed about the contract negotiations process. The only true authority on the status of MBA negotiations is the WGA, as represented by designated member-leaders, your Captains, and staff.

WGA contract negotiations are conducted through a democratic process, supported by thorough analysis of the industry and experienced campaign strategists. The membership decides what issues are brought to the table and whether or not to authorize a strike. Expect to hear debate among your fellow members—a fundamental aspect of any democracy—but don't assume it's a sign of discord. Recent experience has shown that WGA members are aligned on core issues and will take action when the stakes are clear. In 2017, the last time writers took a Strike Authorization Vote, 96.3% voted in favor, creating the leverage negotiators needed to secure increases to the health fund and other gains. Throughout the history of the WGA, writers have proven that they can win new industry standards through collective action.
Quick Links
If you're looking for information about the 2020 MBA, visit Guild Contracts.
Back to top