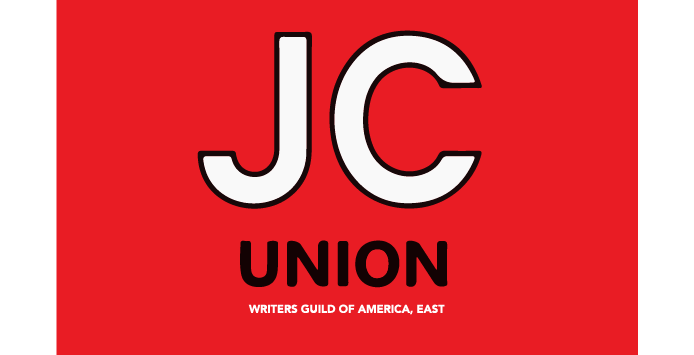 What We're Up To
First Contract
On January 7, 2022, the Jewish Currents Union announced the ratification of their first collective bargaining agreement, which the bargaining unit had unanimously ratified earlier in the week.
The three-year collective bargaining agreement will bring all salaries above $60,000 by the end of this contract. The contract also secures the right for a bargaining unit member to attend meetings of the Jewish Currents' Board of Directors, along with several other gains.
Victory!
The Jewish Currents staff union with the WGA East was voluntarily recognized by management on July 15, 2020.
Why We're Organizing
The staff of Jewish Currents has decided to unionize with the Writers Guild of America, East. We believe deeply in the magazine, which has become a leading progressive intellectual voice, and we want to guarantee that all employees of Jewish Currents have the organizational support to sustain the important work that we do. Forming a union is the best way to make sure that our magazine continues to uphold the pro-labor values on which it was founded, and which have made Jewish Currents our professional and political home.
Jewish Currents was founded nearly 75 years ago and was affiliated with the Communist Party until 1956, when it broke with the party and took on the name it still bears today. It has weathered world-historical shifts while remaining committed to a set of core values, most significantly socialism and internationalism. In unionizing, we are also reaffirming a commitment to these values.
We're excited to be part of this historic publication at a pivotal moment of growth. After two years of rebuilding under new leadership and for a larger audience than ever before, the reimagined Jewish Currents is cultivating a new generation of journalists, critics, writers, and poets who will carry the magazine into the coming decades. But even as we grow, we remain at heart a little magazine, committed first and foremost to intellectual rigor, clarity of thought, and radical imagination.
We want to develop internal structures to ensure that the shape and direction of our growth—and the vision it expresses—remain consistent with our values as a magazine of the Jewish left. A union will allow workers to have a prominent voice in the organization and keep it accountable to the people building it, as well as to the communities who have supported us and those with whom we are in conversation. As Jewish Currents advocates for a better world, it must also prefigure one.
As we pursue that goal, here are some of the issues we look forward to discussing with you:
EDITORIAL INDEPENDENCE AND CLARITY AROUND INSTITUTIONAL HIERARCHIES
As we increase our readership and visibility, and thus begin to cause more trouble for the powerful institutions and figures we cover critically, it's essential that we codify our commitment to editorial independence. And as the magazine becomes more structurally complex—with more employees and stakeholders at various levels of leadership, and more sophisticated divisions of labor and hierarchies of responsibility—we must create a culture of transparency around the mechanisms of authority within the organization.
INCREASED EDITORIAL CAPACITY
We are proud of the quality of our magazine and excited to continue this period of expansion. To sustain the quality of our work and facilitate this growth, we need significantly increased resources, from more staff personnel to better technological infrastructure to an increased freelance budget. We also need to secure a viable work-life balance for all employees.
FAIR EMPLOYMENT CLASSIFICATIONS AND CONTRACTS
All Jewish Currents workers need to be classified correctly according to the work they are performing. We need contracts that lay out clear and reasonable job expectations for each employee, and establish protocols for changing or adding work responsibilities, with compensation adjusted accordingly. Our contracts should also ensure equitable and transparent compensation, legal protections, guaranteed sick leave and vacation time, fair guidelines for termination, and other appropriate workplace standards.
A COMMITMENT TO DIVERSITY
Jewish Currents's hiring practices and distribution of resources must bear out its editorial commitments to antiracism and internationalism. Staff must have channels to advocate for editorial decisions that prioritize solidarity with communities of color, and particularly with the Jews of color and Palestinians effectively silenced within and beyond much of the Jewish media landscape.
We are excited to build a union that strives to realize our shared values in the material conditions of our workplace. We look forward to working with you to make Jewish Currents a haven for our staff, our contributors, and our comrades.
In solidarity,
The Jewish Currents Organizing Committee
Back to top