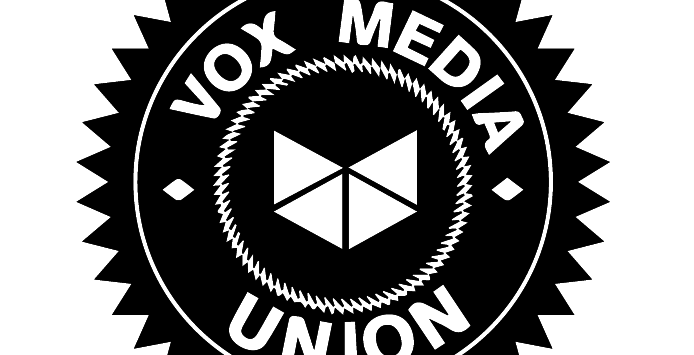 What We're Up To
Second Contract
In June 2022—after six months of bargaining; a strike pledge; nearly 7,000 letters of support sent to Vox Media management from Guild members, union allies, and readers of the sites; and extensive social media and internal company action from the unit—Vox Media's bargaining unit ratified a new contract.
The new CBA includes significant salary increases, equal pay language, five months of parental leave, elimination of NDAs for harassment/discrimination, and more.
Second Contract Negotiations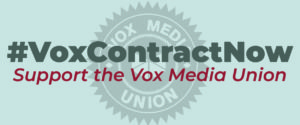 The Vox Media Union's current contract expires on June 13, 2022, at 12:01am ET and the unit is still bargaining for a new deal that includes fair minimum salaries, across-the-board increases, and successorship. While we're hopeful a deal can be reached before the contract expires, we are preparing in the event the unit goes on strike.
95% of the Vox Media bargaining unit signed a strike pledge, and the WGAE's Council unanimously voted to authorize a strike at Vox Media if a new collective bargaining agreement is not reached before the current contract expires.
In preparation for a potential strike beginning this Monday, June 13, we are asking members to sign up to join a picket line in New York City, Washington, DC, or virtually on Twitch. Members and allies can sign up at wgaea.st/VMUstrike.
Another way to support your fellow Guild members at Vox Media is to take one minute to send a letter to Vox Media CEO Jim Bankoff or tweet at @Bankoff urging him to agree to a fair contract now!
Check the Vox Media Union twitter feed @Vox_Union for updates if the unit calls a strike or if a deal is reached in time.
Thank you for your support and solidarity.
First Contract
In June 2019—after a daylong walkout by the entire bargaining unit on June 6, followed by a 29-hour-long bargaining session—the Vox Media Union ratified their first contract. You can read about the contract highlights here.
The Vox Media Union began bargaining their contract in April 2018, and live-streamed a bargaining explainer from the table (video begins at 74:00).
In May 2018, the bargaining committee found out about a labor dispute at Terranea Resort, the hotel where Vox Media's Code Conference would be held later in the month. The committee released a statement in support of the hotel workers, and Vox Media has committed to finding a new location for the 2019 conference if Terranea Resort does not reach an agreement with workers.
The Vox Media Union continues to share bargaining updates and news on Twitter: @vox_union.
Victory!
The Vox Media staff union with the WGA East was voluntarily recognized by management on January 10, 2018. Read more about it here.
Why We're Organizing
Vox Media's editorial and video staff are proud to announce we are unionizing with the Writers Guild of America, East. Across eight verticals, we are committed to smart, in-depth journalism and storytelling on every platform. Vox Media's commitment to quality and innovation, as well as its core values emphasizing ambition, collaboration, and respect, have made this one of the best places to work in the industry. There is no better way to cultivate that innovation, and champion our values, than to unionize.
By organizing, we intend to protect the nimble culture and inclusive, forward-thinking values that make this company great, and to ensure all concerns and challenges can be addressed by a collective voice. An empowered team is an ambitious team, and the greater transparency and collaboration offered by a union will allow us to thrive and take risks in an ever-changing industry.
Most importantly, a union will offer a company of far-flung co-workers a robust sense of community and nurture a culture of respect. An organized workforce provides support for each employee, and any one of us in need should feel empowered by the rest of us.
Unions have made traditional newsrooms across America stronger and better for decades, and we're excited to join the movement in digital media to bring these protections to this industry. From new hires to longtime employees, we are eager to continue our leadership in digital media, and to do so we need a seat at the table as Vox Media charts its future.
Here are a few key issues we seek to address.
Protecting and strengthening our culture
Vox Media is an excellent place to work; it is also a grown-up corporation still bearing artifacts of a young start-up. Employees want the company to stay flexible and evolve. We also want consistency in titles, salaries, raises, and benefits, all of which can become arbitrary if unchecked or opaque. We expect transparency around company hierarchy and paths for career growth within it, including standard cost-of-living raises in salary.
Vox Media will eventually buy or sell properties, engage with investors and advertisers, and perhaps discipline or lay off employees. In any such case, we want to preserve our benefits, to ensure our fair share of capital, and to protect individuals and their work from forces outside their control.
Increasing transparency and communication
We want increased transparency in times of growth or crisis, before and after major decisions, and accountability within the company's existing editorial and management structures to ensure that all actions are sensible, fair, and consistent across all Vox Media-owned brands. Much of Vox Media's workforce is employed remotely, and organizing allows us to ensure that all of these employees, including part-time staffers and freelance contributors, are treated fairly in terms of compensation and expectation.
Holding Vox Media accountable for diversity
We want to foster a diverse workforce, and an environment that promotes and respects that diversity. We also want to ensure Vox Media is a safe work environment for every employee. We seek a continued commitment to hiring inclusively, a focus on promoting people of color within the company, and formal processes for addressing when company culture fails to reflect these values.
Ensuring our seat at the table
A Vox Media union will give us the means to maintain everything we love about working for this company, and to have a collective voice when we address anything that may change or founder. We look forward to bringing Vox Media employees together as an organized unit, and bringing that unit closer to management at the bargaining table and beyond.
Back to top