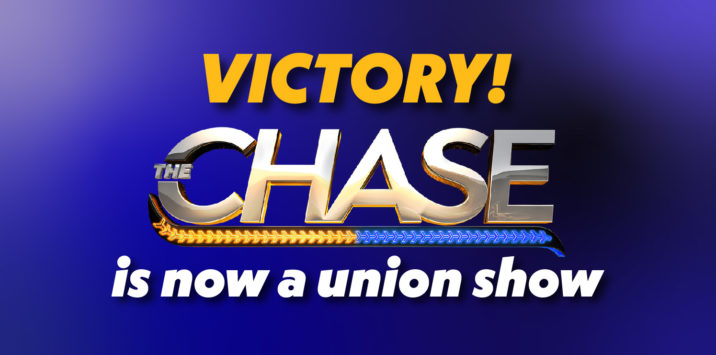 Thanks to the solidarity of the writers of ITV Entertainment and ABC Network's THE CHASE, and to the overwhelming support shown by Guild members, THE CHASE is now a Guild-covered show.
Writers will be employed under guaranteed-term contracts. They will also now receive health, pension and paid parental leave contributions for their work; will now be credited in accordance with WGA credit rules; and will now be paid residuals upon reuse. Any writer employed on subsequent seasons of THE CHASE can expect the full guarantees and protections of the MBA.
Critically, the terms of the settlement agreement also stipulate that all current writers be brought up to a weekly rate that will qualify them for WGA healthcare based on their work this season.
Thank you to all who took action over the last two and a half weeks: those of you who supported the writers of THE CHASE on a virtual picket line on social media; as well as the 2,100 members who signed a petition in support of the writers. As Guild members, you mobilized quickly in solidarity with your fellow writers. And what's more, you demonstrated your ability to protect our jurisdiction over this kind of scripted content.
Congratulations to the writers of THE CHASE – and to all members of the Guild.
Back to top