Vote Now in the 2021 WGAE Council Election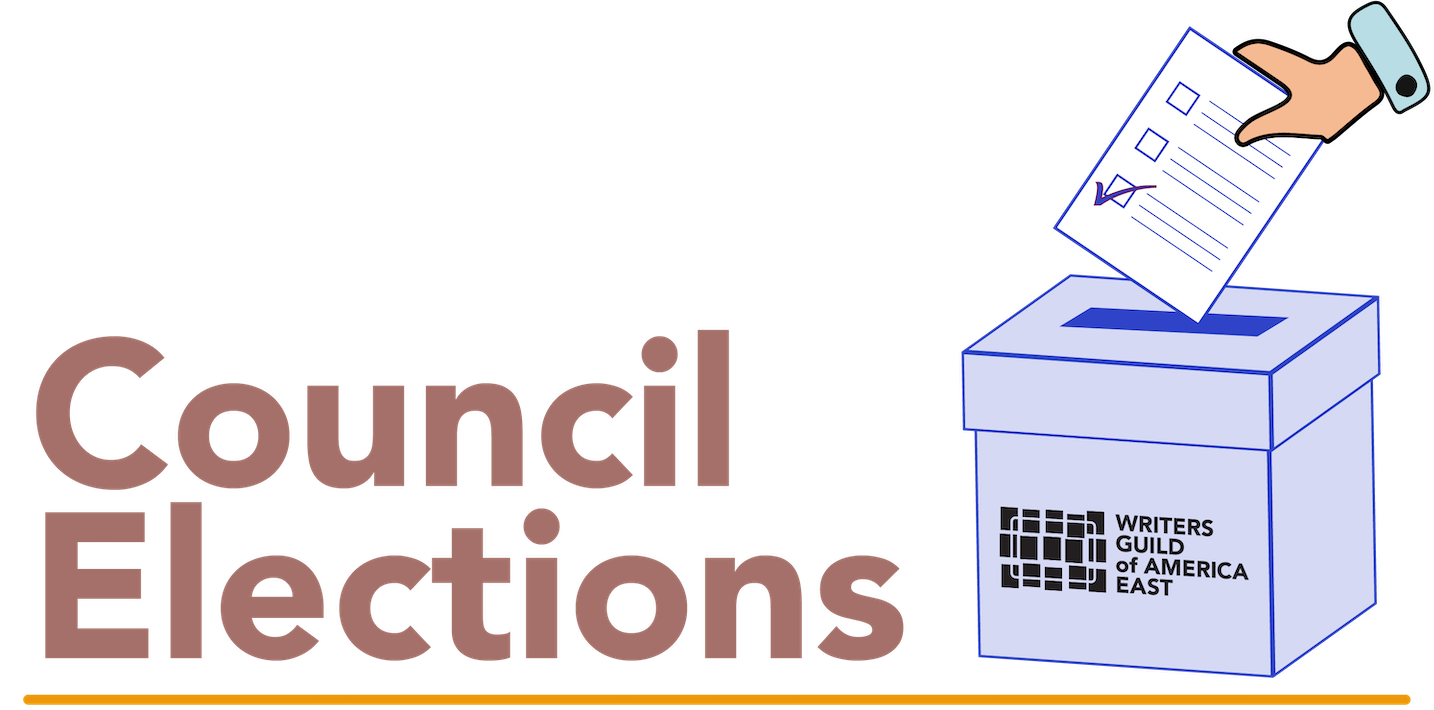 Online voting for Council members will begin at 8 AM ET on Thursday, August 26, 2021 and end at 5 PM ET on Tuesday, September 14, 2021. Any current member in good standing is eligible to vote in the election.
To vote online, please visit https://eballotuv.votenet.com/wgaeast and follow these steps:
Enter your 5-digit WGAE Member ID and activation code. (IMPORTANT: Unique activation codes have been sent to eligible voters via email.)
You will be asked to create a password. (This step ensures the confidentiality of your vote.)
After you have voted, you may print a confirmation page, which will include the date and time of your online vote.
If you want to vote in person, you may do so at the Annual Membership meeting, on September 14 at 5 PM ET at the Guild office. You may also request a paper ballot (instructions will be included in that packet) by calling Nancy Hathorne at (212) 767-7812. Due to security precautions at 250 Hudson Street, you must RSVP by 12pm on September 14 and provide proof of vaccination, in order to vote in person. RSVP here.
Should you have any questions regarding online voting, please call the eBallot toll free hotline at (866) 984-3125. For general election questions, please call Nancy Hathorne.
PLEASE NOTE:
Eligible voters received an email with a unique activation code. If you received an email without an activation code, please refresh your email inbox and look for a second one. A new email containing both your username and activation code will be delivered shortly.
If you do not have your Activation Code and need it emailed to you, email help@eballot.com or call eBallot, M-F 9am – 5pm: 866-984-3125. (You will need your WGAE Member ID number. You may need to check your spam folder for the activation code email.)
If you need your Member ID number, call or email Nancy Hathorne (212.767.7812). For any other assistance with the voting process or resetting your activation code, please call Votenet M-F 9am – 5pm: 866-984-3125.

Please note that the Guild neither endorses nor recommends any candidates for Guild office.  The use of the e-mail address elections@wgaeast.org and the Guild's street address (or logo) in connection with distributing candidate campaign material is for the convenience of the candidates and members of the WGAE only and should not be construed as an endorsement of any candidate.

You may have begun to receive individual campaign messages either via postcard or eblast. In addition, candidate statements are posted at www.wgaeast.org and on the voting website. Please be aware that the Writers Guild of America, East neither endorses nor recommends any candidate.
Back to top